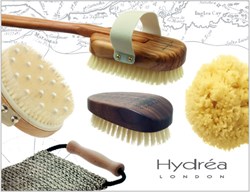 Toronto, Canada (PRWEB) June 27, 2013
Fendrihan possesses a keen sense for finding superior brands and then bringing their products into its catalogue. The latest brand to be added to this Canadian online store's product selection in this manner is called Hydrea London, which is the name under which the British-based Natural Sea Sponge Company sells its superb spa accessories. One and all, these excellent products are made in the European Union using some of the best and most ethical practices in the business. In total, Fendrihan is introducing 28 products from Hydrea London to its product selection, ranging from brushes to straps and bath mitts.
Since the Natural Sea Sponge Company started out as a processor of natural sea sponges for commercial purposes, it understands the need to protect nature so that future generations can continue to depend upon it, a practical position that has carried over to its other products. Over the decades since its founding, the London-based manufacturer has expanded its offerings from sea sponges to include a range of beautiful spa accessories sold under the name of Hydrea London. Each one of these accessories are European-made using natural materials that have been collected using sustainable means that add to rather than detract from their value. Examples of the products being added to Fendrihan's selection range from brushes and bath mitts to the sea sponges that have helped The Natural Sea Sponge Company make its name.
Hydrea London's addition to Fendrihan's selection of products helps to cement its status as one of the leading online retailers for Canadian customers. Introducing the natural sponges and spa accessories bearing the Hydrea London brand serves to expand the selection of men's care products sold through Fendrihan. In one move, it both expands Fendrihan's customer base and brings it closer to becoming a one-stop online shopping destination for those same customers. In short, it is a move that strengthens Fendrihan's position in the market while also providing increased benefit to its customers.
About Fendrihan:
Fendrihan might be focused on providing products used for men's wet shaving, but it has long since branched out into other items of interest to the same clientele. In recent times, a series of introductions has seen its selection expand to include more personal care products, fine writing instruments, European leather accessories, and even a superb collection of kitchen knives from the famous Japanese manufacturer, KIYA. However, despite these introductions, Fendrihan remains the premier Canadian online retailer of shaving products, boasting a comprehensive selection featuring some of the most famous names in the business plus rare and hard-to-find products from manufacturers all around the globe.