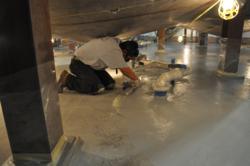 The floor coating met our organic certified syrup production needs well.
Wall, NJ (PRWEB) June 27, 2013
Garon Product's food safe flooring [Mortarthane™ SLP] was used by Crown Syrup, a maple sugar processing company in upstate New York, to resurface the concrete floor at its 25,000 sq. ft. maple sugar production facility.
Crown Syrup's sugarhouse is the main maple syrup production facility producing sap from 800 acres of century-old red maple trees.
The newly constructed facility had a freshly poured concrete floor that required protection from extremely high temperatures involved in maple production.
Crown Syrup's architect and general contractor worked with Garon Products to specify the right concrete floor coating to help protect the floor at the sugar processing facility. Garon Products developed a customized floor coating material specification to meet the needs of the sugar processing facility.
The sugar processing facility owners needed a food-safe flooring product Garon's urethane cement, broadcast - Mortarthane™ SLP, and one that could dry quickly to avoid production delays at the start of the sugar production season.
The urethane floor coating was installed to meet Crown Syrup's needs and ensure production began on schedule.
To read the full story and watch live video of the sugar processing plant floor installation, visit http://www.floorcoatingtv.com.
About Garon Products Inc.
Garon Products Inc. is the leading direct marketer of concrete repair and floor coatings through its catalog "Concrete Floor Solutions" published four times a year. Garon also manufactures specialized floor coatings and concrete resurfacing products for every flooring application. The line includes epoxy, cement urethane, and polyaspartic compositions. For more information, visit http://www.garonproducts.com Or if you prefer, call Garon Products (in U.S.) at 800-631-5380 for guidance on your floor coating project.