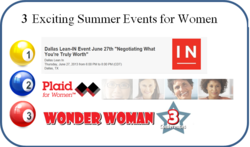 These three exciting summer events will allow women an ability to connect to communities of like-minded women and be empowered to make immediate changes in their world.
Dallas, TX (PRWEB) June 26, 2013
1) LeanIN- The Power to Ask: A new LeanIn Dallas group has been created that will convene for its second meeting June 27th, at the Tower Club in Dallas. This group will help empower women in the workplace and in life. This event focuses specifically on 'How to Ask' and negotiate for what women want in pay/benefits/positions and projects.
Bethany's motivational message is clear: "We control our destiny, our earnings, and our ability to live a full and balanced life."
Women can register for the event online: http://dallasleanin-june27th.eventbrite.com/# .
2) Live Your Dreams: Plaid for Women is hosting an event July 24th, at the Grand Prairie Chamber of Commerce to help women learn to take action to achieve goals and live the lives they are dreaming of.
"Your life is yours to design and nothing is stopping you from living the incredibly fun-filled and exciting life that you were born to live," Williams writes. "You can create a life full of adventure. You can achieve life balance. The journey starts with a dream and ends with making the most of the short life that you have before you."
Women can register for the event by contacting http://goo.gl/xnyzC .
3) Wonder Women Conferences: Wonder Women Conferences is hosting a three-part faith based series on July 27th, August 17th and September 21st , showcasing a powerhouse of female presenters, giving women an opportunity to relax, become refreshed, refocused, re-energized, and reset on a new path.
These conferences will offer live attendance at Gospel for Asia in Carrollton, Texas as well as simulcasting around the world. For information, visit http://www.thatagirlspeakers.com/#!wonder-woman-conference/c1bj8 or log onto http://www.thatagirlspeakers.com and select 'Wonder Women Conferences'.
_ _ _ _ _ _ _ _ _ _ _ _ _ _ _ _ _ _ _ _ _ _ _ _ _ _ _ _ _ _ _ _ _ _ _ _ _ _ _ _ _ _ _ _ _ _ _
Williams is a results-oriented executive with 27 years experience driving complex initiatives in the business world. She is currently the Vice President of Corporate Development for a hyper growth SaaS healthcare technology company and has worked in high level positions in industry leading corporations such as PwC, Perot Systems, Sharp Healthcare, GE Healthcare, and IDX Systems Corporation. In 2009, Bethany was named "One of the Top 25 Women to Watch" by the Dallas Business Journal and she is currently listed as one of the top 100 Branding experts to follow on twitter (@WinLifeStrategy). She is a listed speaker for That-a-Girl & Friends Speaker's Agency in Dallas, Texas.
Bethany has four published books: Winning Strategies for Women, From Mother to Mentor, Father to Coach. Brand YOU: Steps to Building Your Personal Brand, and Live Your Dreams: All of her books are available on Amazon.com.
For more on Bethany, her books, her motivational blog, and speaking engagements, visit http://www.bethanywilliams.org.
LeanIN events are action meetings, designed to empower women to make immediate changes in their world and allow them access to a community of like-minded women who want to do the same. For more information, visit the http://www.leanin.org website.
Plaid for Women is a community by women for women. Plaid for Women hosts a website with valuable podcasts, videos, articles, and live 'Plaid' events- all focused on thoughts, actions and advice for women that will help women grow into the powerful beings that they can be. Bethany is an expert contributor to Plaid for Women. For more information, visit http://www.plaidforwomen.com.
Wonder Women Conferences are faith based conferences meant to empower mature women and encourage the next generation and millenniums to strive to achieve the great legacy of powerful women celebrated in the Bible and within our society today. It is an extension of Thelma Wells ministries. For more information, visit http://www.thatagirlspeakers.com.