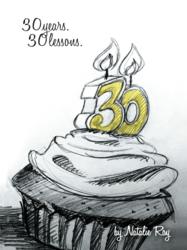 Though our lives and situations may be different, we are all connected in our humanity.
New York, NY (PRWEB) June 27, 2013
Experienced actress, author and student of life, Natalie Roy shares her answers to life's toughest questions in her new book 30: 30 Years, 30 Lessons.
This normal, everyday girl, found her past 30 years held captive by mental clutter and self-doubt. Despite growing up with a family who loved and supported her, Roy's attempt to fill life's void with overachievement and a constant routine of parties, yoga and moving left her miserable. When she finally began to seek what she wanted the most within herself she began to heal and grow, realizing we are the creator of our lives, not the reaction to it.
"Though our lives and situations may be different, we are all connected in our humanity," said Roy. "My voice and my stories can help you, just as yours can help others."
30: 30 Years, 30 Lessons calls upon Millennials to free themselves from being defined by their past. Told with humor and candor, this self-help manual navigates the rough waters of heartbreak, regret and hopelessness and offers 30 viable lessons to overcome negativity and develop a strategy for success.
30: 30 Years, 30 Lessons
By Natalie Roy
ISBN: 978-1-45256-866-9
Hardcover: $23.22
Paperback: $11.05
eBook: $3.99
Available at http://www.amazon.com.
About the author:
Natalie Roy grew up in a small Canadian rural community called Keswick Ridge. She received a BA degree with honors and distinction in English at St. Thomas University, and has spent the past 10 years as a professional actress, performing in feature films, short films, television series and theatre. Roy is a certified RT Yoga Instructor and through her training is well informed on philosophy and mediation. She wrote her first One Act Play, "Round Third" which was produced in New York in 2012 and spent 5 years in the theatre troupe writing and performing original material. Roy continues to pursue her passion for acting and writing and currently lives in New York City.
Find her online: http://www.natalieroy.com.