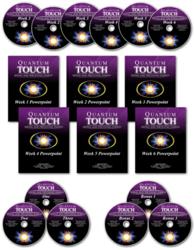 Your view of the world will change after this course.
(PRWEB) June 25, 2013
Due to high demand, Quantum-Touch, Inc. has extended the deadline to receive a $150 discount on the upcoming "Advanced Seeing and Perceiving Energy" webinar. Participants who Register Now can still receive the discounted price of $147 for the six-week seminar that begins late July.
This master course is designed to give the 2,600 people who participated in the basic level "Seeing and Perceiving Energy" course an opportunity to further their skills in energy healing.
Advanced level instructor Deborah Deeya Gair will gently guide participants as they discover the life-force energy's unfathomable healing abilities and the limitlessness ability of their sentient natures. Gair has 10 years' experience instructing others in how to see and use the subtle energies of life.
"Your view of the world will change after this course," Gair said. "Guided exercises, the support of like-minded individuals and an encouraging environment will help you realize the wonder of the world you see and perceive."
During this six-week series, participants will participate in sessions which develop organically based on the needs of the group. Specific information and exercises will also help participants increase their seeing and perceiving paths (abilities, talents, skills). A "homework" lesson will provide focus for each week's session.
Webinar participants will learn:

Techniques to energize, quicken, concentrate and enhance the life-force energy.
Meditations designed to delve into humans' boundless, limitless potential
Explorations to expand and heighten awareness of deeper levels of consciousness.
Progressive unfoldment of humans' innate spiritual gifts.
Entering into vast realms of undreamed of possibilities.
Attaining connection and greater unity with self.
Participants can take part during the live weekly webinar or watch a recording at their convenience. A link to the recording will be sent to participants following the live broadcast.
Live workshop dates are as follows:
July 23, 2013 from 2- 3 p.m.
July 30, 2013 from 2- 3 p.m.
August 6, 2013 from 2- 3 p.m.
August 13, 2013 from 2- 3 p.m.
August 20, 2013 from 2- 3 p.m.
August 27, 2013 from 2- 3 p.m.
All times are Pacific Standard Time.
To enroll, participants must have either watched or participated in Gair's or Alan Heriott's "Seeing and Perceiving" course in the past.
For more information or to register for the advanced online workshop, please click here.
ABOUT QUANTUM-TOUCH, INC.
Quantum-Touch, Inc. provides a method of natural healing that works with the "Life Force Energy" of the body to promote optimal wellness. Life Force Energy, also known as "chi" in Chinese and "prana" in Sanskrit, is the flow of energy that sustains all living beings. Quantum-touch teaches simple and effective ways of using energy medicine to reduce pain, realign structure, balance organs, glands and systems, heal injuries and so much more. For more information, please visit http://www.quantumtouch.com