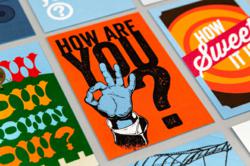 London, UK and Providence, RI (PRWEB) June 27, 2013
A conversation would surely get started if you handed someone a business card that said "HOW ya like me now?" And, that is exactly what the designers at HOW Magazine are hoping to do with the new, limited edition business card collection titled, HOW Clever. The collection was designed for The Luxe Project; an initiative that allows brilliant creatives to design for the charity of their choice. HOW has chosen EPIC (iamepic.org) as the charity to receive 100% of the net proceeds from sales of this collection for the featured month.
The set reads like a "how-to" for engaging people in conversation with 10 different cards based on the idea of "how?" such as "HOW bizarre" and "HOW time flies" or "HOW may I help you?" Each card is meant to start a dialog. Designed by Claudean Wheeler, Art Director of HOW + PRINT Books; Adam Ladd, Art Director of HOW Magazine; and Ronson Slagle, Art Director of PRINT Magazine, HOW Clever is a vibrant and beautifully designed collection with a blue seam of color running through the middle of each card, and a message about connecting. The 50-card pack can be ordered with all 10 designs in the collection, or customers can pick and choose to select only their favorite designs. The fronts of the cards are customizable for personalization.
Orders of this collection through July 12, 2013 will directly benefit EPIC.
EPIC is a Chicago-based nonprofit organization that empowers creative people to make social change happen. EPIC hand picks volunteers from the advertising and design industries and pairs them with Chicago-based nonprofit clients who are dedicated to education, children and families. The work is done strictly on a pro bono basis, and designed to assist the client's mission. "For creatives it's the chance to work with other like-minded professionals across the industry, and to use their talents for social good. For nonprofits, it's the chance to develop the kind of world-class, strategic marketing that their missions deserve," said Chris Huizenga, Executive Director, EPIC.
About The Luxe Project by moo.com
The Luxe Project is an initiative that teams brilliant creatives with Luxe Business Cards by MOO – and helps good causes as well. Each new designer's collection is showcased for a month, and 100% of net proceeds from sales of that collection during that timeframe will go to the designer's charity of choice. To date, The Luxe Project has raised over $30,000 for the following designers and their charities: Michael Osborne for Joey's Corner, Dan Rubin for The Harmony Foundation, Katie Barcelona for GVI, Sean Adams for The Art Center College of Design, Helen Friel for Battersea Home for Dogs & Cats, Super7 for OneSight, MOO in-house designers for Cancer Research Fund, and Sagmeister & Walsh for The Coalition for the Homeless.