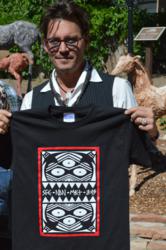 Santa Fe, New Mexico (PRWEB) June 26, 2013
Actor Johnny Depp, star of 'The Lone Ranger,' showed his support for the Santa Fe Indian Market and got a first look at the Remimbres Tee from the Southwestern Association for Indian Art's (SWAIA) Artists Designed Collection, created by artist Ehren Kee Natay (Diné/Kewa Pueblo/Cherokee), at the official 'Lone Ranger' press junket in Santa Fe, New Mexico. Depp's role as Tonto in the upcoming film has led to a number of meaningful interactions with the Native community, such as his recent adoption into the Comanche Nation of Oklahoma. Jhane Myers (Comanche/ Blackfeet), Film Project Manager of the Native Cinema Showcase and Class X Film Competition at SWAIA's Santa Fe Indian Market, has worked extensively with Depp, ensuring that the relationship between the actor and the Native community remains mutually respectful.
For more information on SWAIA and the Artist Designed Collection, visit http://www.santafeindianmarket.com.
About SWAIA
SWAIA is an advocate for Native American arts and cultures and creates economic and cultural opportunities for Native American artists by producing and promoting Santa Fe Indian Market Week™, the finest Native American art and cultural event in the world; cultivating excellence and innovation across traditional and non-traditional art forms; and developing programs and events that support, promote, and honor Native artists year-round.
SWAIA is a non-profit organization, and keeps no portion of the sales made by artists during Santa Fe Indian Market Week™.
Follow SWAIA on Facebook, Twitter, Instagram, and Pinterest.