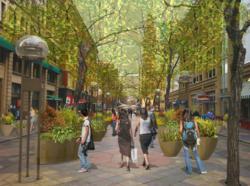 FORETHOUGHT.net was delighted to be selected as the internet service provider for the Downtown Denver Partnership project.
Denver, CO (PRWEB) June 26, 2013
FORETHOUGHT.net announces today that it will provide 100M fiber internet broadband to support the 16th Street Mall garden project.
Downtown Denver Partnership is working with the Denver Botanic Gardens to install a massive garden project on the 900 block of the 16th Street. The project will include a public garden from the Denver Botanic Gardens and public Wi-Fi.
As a local Downtown Denver company, FORETHOUGHT.net was delighted to be selected as the internet service provider. "Since 1995, we have focused our innovation on supporting Colorado companies," said Jawaid Bazyar, president of FORETHOUGHT.net.
As part of the Summer 2013 16th Street Mall initiative, the Downtown Denver Business Improvement District developed the new Garden Block. The Garden Block creates a unique environment on one block of the Mall through the installation of various smaller versions representing a variety of gardens featured at Denver Botanic Gardens. This Garden Block will feature Downtown's new wifi hotspot with 100M service provided by FORETHOUGHT.net.
To learn more about FORETHOUGHT.net business offerings, check out FORETHOUGHT.net.
About FORETHOUGHT.net
Since 1995, FORETHOUGHT.net is a leading locally owned and operated IT and communications service provider, offering a portfolio of enterprise-level cloud hosting, colocation, Internet, voice and data solutions for Colorado businesses.
FORETHOUGHT.net specializes in delivering the FORETHOUGHT.net experience via honoring its customer, delivering on its promise, and being vigilant about constant improvements. FORETHOUGHT.net believes businesses simply need internet and phone to work consistently and that they should only pay for what they need and use. The FORETHOUGHT.net promise is to provide businesses with well designed technology solutions combined with its ethical partnership so technology feeds businesses instead of the other way around. FORETHOUGHT.net specializes in earning its long-term loyalty by consistently providing a professional response system.
To learn more about what to look for in a Colocation Provider, check out our Top 10 Items to Expect from a Colocation Provider.
The Denver Business Journal ranked FORETHOUGHT.net as a Top 15 Telecommunications Company and a Top 15 Internet Service Provider. ColoradoBIZ Magazine listed it as one of Colorado's Top 250 Private Companies. BBB.org accredited A+ member.
About The Downtown Denver Business Improvement District
The Downtown Denver Business Improvement District (BID) is a public organization funded by private commercial property owners. It strives to provide a clean, safe and vibrant Downtown environment for workers, residents and visitors. Through their annual assessments to this quasi-governmental entity, BID property owners fund a series of district-wide programs that enhance Downtown Denver, including cleaning and maintenance efforts, safety initiatives and targeted visitor marketing. The BID is an independent organization that contracts with the Downtown Denver Partnership to manage its work program.
Patricia Kelly
FORETHOUGHT.net
+1-303-815-1823
Patricia(dot)Kelly(at)FORETHOUGHT(dot)net