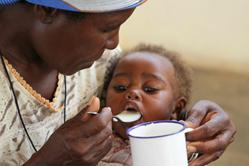 Denver, CO (PRWEB) June 25, 2013
Saving Moses, a global humanitarian organization dedicated to saving babies, traveled to Angola in April to visit the malnutrition clinics it funds. The team returned from their malnutrition clinics in Angola more driven and dedicated to lowering the Under 5 Mortality Rate than ever before. While visiting their clinic in Catumbela, the team was introduced to Moses, a young man who is a beacon of hope for their cause.
At only eighteen years old, Moses is caring for his infant son, Malachia, on his own. When Malachia was only two months old, Moses' girlfriend walked out on him, leaving him alone and ill-equipped to care for their son. In most situations, the job of caring for Malachia would have fallen on Moses' mother. Sadly, Moses lost his mother when he was only fifteen and has been in the care of his uncle ever since, and his uncle does not provide any help for Malachia.
Fortunately, the therapeutic formula that Saving Moses provides the malnutrition clinic in Catumbela with has kept Malachia healthy and happy since his arrival. While the clinic is able to provide for Malachia, however, Moses sadly has nothing to sustain himself. This is why, shortly before leaving the city, the Saving Moses team purchased a supply of groceries for Moses to keep at the clinic so he can remain close to his son at all times.
Moses' love and devotion towards his son is unlike anything the Saving Moses team has ever encountered, and could be the first of a changing society in Angola. Saving Moses is fully supporting parents like Moses and babies like Malachia around the world every day.
Saving Moses supports six malnutrition clinics in Angola, which collectively treat more than 200 babies and toddlers a month with therapeutic formula.
About Saving Moses: Saving Moses is a global humanitarian organization saving babies (5 & under) everyday by meeting the most urgent and intense survival needs where help is least available. For more information, please visit http://www.savingmoses.org, call 303-729-1200, or email Info(at)savingmoses(dot)org