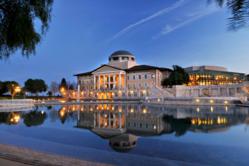 ...global leaders with practical skills and experience, foundational knowledge and ethical commitments...
Aliso Viejo, CA (PRWEB) June 27, 2013
Soka University of America has announced a new Master of Arts program in Educational Leadership and Societal Change that will open in August 2014. Applications will be available on August 1, 2013 on http://www.soka.edu with a deadline of January 31, 2014.
Program Director John Heffron noted that the ideal candidate for the new MA program will have work experience in education or a related field, a BA in Education or similar coursework, and a career interest in educational research, development and leadership. This MA is designed for those who hope to enter (or re-enter) the teaching field as an administrator, plan to seek work as educational leaders or consultants in a variety of non-school settings, or for those looking for an MA leading to the PhD or EdD degree in educational leadership.
The full-time, two year program includes a summer-long research internship that provides students with hands-on opportunities to shadow administrators, analyze organizational dynamics, and evaluate curriculum. Under the supervision of a principal professor, students integrate their fieldwork and educational research to produce a master's thesis for graduation. Merit scholarships will be available to top candidates.
"We hope that the MA Program in Educational Leadership and Societal Change will help answer the need for global leaders with the practical skills and experience, foundational knowledge, and ethical commitments necessary to achieve lasting and effective societal change within the field of education,"said Provost Tomoko Takahashi. "We expect our graduates to be able to initiate leadership in K-12 classroom settings, pursue supplementary state credentialing requirements for managerial positions as principals and vice principals or as administrators at the district-level, and work in public policy institutions around the world."
The mission of Soka University of America's Master of Arts in Educational Leadership and Societal Change program is to provide graduate-level students with the broad interdisciplinary knowledge, research skills, and practical experience for cutting-edge leadership in the all-inclusive world of education, locally, nationally, and internationally.
Soka University of America (SUA) is a private, four-year liberal arts college and graduate school located on 103-acres in Aliso Viejo, CA. The SUA Graduate School strives to provide an academic setting that nurtures men and women from a variety of cultures and national backgrounds and fosters a commitment to lifelong learning. The university offers a 9:1 student/faculty ratio. Founded upon the Buddhist principles of peace, human rights and the sanctity of life, SUA is open to top students of all nationalities and beliefs. About half of Soka University's students come from the US and half from more than 40 other countries. http://www.soka.edu