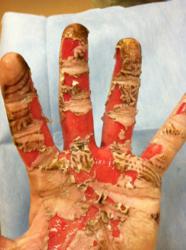 The 4th of July, children and fireworks can produce tragedies. A sparkler burns twice as hot than a log in your fire place. Keep your family safe and take them to a professional fireworks show.
West Hills, CA (PRWEB) June 28, 2013
Fire and burn injuries do not take a summer vacation, nor do they discriminate. The recreational activities we all enjoy carry with them some of the summers' hottest dangers. If you don't know what to watch out for, you just might get injured or burned!
The pleasure of family reunions, picnics, traveling, sunbathing and boating, can all come to a sudden end, unless we protect ourselves against fire and burn injuries that can happen during these special occasions.
Fireworks and resulting fires injure more than 10,000 Americans yearly. More than half of these injuries occur during the first week of July. Camping plays an important role in the lives of millions of Americans. With warm weather comes outdoor cooking. Children under five account for almost 1/4 of the thermal grill burns.
Gas grills are involved in an average of 7,000 home fires per year. Most gas grill fires and explosions were caused by gas leaks, blocked tubes and overfilled propane tanks. About 1/3 of the gas grill injuries were burns incurred while lighting the grill.
BBQs that use charcoal account for many burn injuries. Many of these are due to the flammable liquid (such as gasoline) not meant for this use or a reapplication of a flammable liquid.
Summertime activities should be fun. Based on the many summer injuries that we see here at The Grossman Burn Center and West Hills Hospital & Medical Center, here are a few specific tips to observe:

Keep your July holiday activities enjoyable and safe by leaving all fireworks to the professionals.
Never add a flammable liquid to a fire or hot coals.
Maintain gas grills for injury-free cooking.
If campfires are made in sandy beach areas, put the fire out with water. Do not cover the coals as they can hold in heat for days and cause burns.
To protect your feet from burns when walking on pavement in the summer…wear shoes.
Keep kids away from all cooking activities whether it is inside or outside.
About Grossman Burn Centers:
Founded in 1969 by Dr. A. Richard Grossman, the Grossman Burn Center is the largest plastic surgery-based burn practice in the western United States. Headquartered in West Hills, CA, with facilities in Bakersfield, CA, and Phoenix, AZ, the Grossman Burn Center is in the midst of a national expansion and has plans to open additional burn centers throughout the country. The Grossman Burn Center is renowned for its expertise in providing acute and reconstructive burn care, rehabilitation, and post-treatment emotional and psychological support. It has received global recognition for its treatment of some of the most difficult and high-profile burn cases in the world. For more information: http://www.grossmanburncenter.com.
About West Hills Hospital & Medical Center:
West Hills Hospital & Medical Center is a full-service acute care facility located in West Hills, CA, in the Western San Fernando Valley. The 225-bed facility recently completed an $80-million expansion that includes a new Emergency Department, Intensive Care Unit, Outpatient Services Unit, Cardiac Catheterization Laboratory, and The Grossman Burn Center. HealthGrades (a leading independent health care rating company) announced that West Hills Hospital has received the Distinguished Hospital Award for Clinical Excellence for 2011 & 2012, the Clinical Excellence Award for Critical Care for 2012. West Hills Hospital is also among the Top 100 Hospitals nationwide for Gastrointestinal and General Surgery. West Hills Hospital was the first Accredited Chest Pain Center in Los Angeles County, and also recently received a Certificate of Distinction as a Primary Stroke Center from the Joint Commission. For more information: http://www.WestHillsHospital.com.