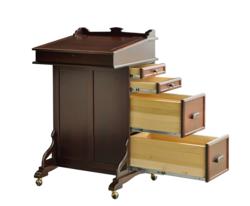 Standing can burn up to three times as many calories as sitting.
Akron, Ohio (PRWEB) June 27, 2013
Offices around the world are trading in chairs for standing desks. This move away from traditional office furniture is largely attributed to growing concern over the immense health risks many Americans are exposed to daily by sitting at their desks for long periods of time.
StandUpDesks.com calls on employers to take a stand for employee health by switching to standing desks to take advantage of these five key health benefits:
1. Improve Posture and Reduce Back Pain. Working at a standing desk can keep back muscles engaged and improve posture. Forcing yourself to stand up straight also increases core strength.
2. Fight Fatigue. Standing promotes circulation, allowing the body to release restless energy which in turn helps you remain alert and productive. Many stand up desk advocates maintain that it is much more difficult to get sleepy while standing because you are more aware of your body.
3. Avoid cardiovascular disease. According to a 2010 study conducted by epidemiologist Steven Blair men who have more than 23 hours a week of sedentary activity have a 64 percent greater risk of dying from heart disease than those who are sedentary less than 11 hours a week. In addition Blair also found that "people who sit more have less desirable levels of cholesterol, blood sugar, triglycerides and even waist size, which increases the risk of diabetes, heart disease and a number of health problems."
4. Burn more calories. Standing can burn up to three times as many calories as sitting. While standing you are constantly moving your entire body. Stand up desks allow the entire body to be active thereby jumpstart metabolism and increasing calories burned.
5. Sleep Better. At a standing work stations you burn a higher number of calories, use your muscles and release more of energy you consume. This allows you to sleep better and end the day with in satisfied state of tiredness.
In addition to lowering the health risks for employees, stand up desks can cut health benefit costs for employers. The benefits of standing desks go beyond health. Many believe standing desks spur creativity and productivity. Creative greats such as Ernest Hemingway are known to have used standing tables. Leading manufacturer of carefully crafted stand up desks, StandUpDesks.com encourages employers to start thinking progressively and take a stand for employee health by making standing desks a norm in the modern workplace.
About Amish Country Furniture Sales' Stand Up Desks:
Since 1984 Amish Country Furniture Sales has manufactured the finest quality solid wood stand up desks for those seeking relief from injury. Amish Country Furniture Sales prides itself on its exquisite craftsmanship and extremely affordable costs. Amish Country Furniture Sales which started with three basic designs and one workshop has blossomed into a company with over thirty six designs and five workshops, constantly growing with new ideas in which every desk is 100% Amish made in Ohio. Thanks to quality wood and the hard work of Amish Country Furniture Sales' Amish workers, leather smiths, and finishers every desk is backed by a materials and workmanship Lifetime Warranty, shipped worldwide.