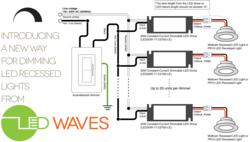 A newly designed all-in-one dimmable LED driver takes the place of the additional hardware previously needed to dim these LED recessed lights while eliminating an extra wiring connection point.
Brooklyn, New York (PRWEB) June 27, 2013
Original Equipment Manufacturer LED Waves has announced a development that has made it easier to dim their popular line of LED recessed light fixtures.
The company's selection of downlights includes the PR15 Ultrathin - a low profile 13 Watt LED equivalent to a 50 Watt halogen down light - and the Midtown 2.0 and 2.1. The Midtown series is made in the USA exclusively by LED Waves; both fixtures are 9 Watt LED spot lights comparable to 50 Watt halogen MR16 bulbs.
LED Waves' recessed lights are available in both dimmable and non-dimming units. Standard non-dimming units ship with a line voltage LED driver, which connects to the junction box in the ceiling. The Midtown's LED driver is ETL listed to UL standard 1598.
In the past, customers who wished to dim these LED recessed light fixtures needed to connect each one to a 12v Buck Puck LED driver, in addition to a dimmable LED power supply. A newly designed all-in-one dimmable LED driver takes the place of this additional hardware. This also eliminates an extra wiring connection point.
With this new dimming configuration, up to twenty LED recessed light fixtures may be installed in a series and controlled by a single dimmer. These systems are compatible with standard incandescent and halogen dimmers; see site for recommended products.
The pricing and line voltage wiring instructions for the non-dimming LED down lighting units remain the same. Dimmable and non-dimmable units should be installed only by a licensed electrical contractor or other qualified building personnel, as specified by local safety codes. (Installation diagrams for all products are available for download at LEDWaves.com)
About the Company
LED Waves is a supplier and OEM with over a decade of experience in the solid state lighting industry. The small company moved operations stateside in 2011 and has been manufacturing LED PAR lamps and other down lights in the USA ever since. For factory-direct pricing by quantity on their entire selection of LED lights, call 1(800) 986-0169.