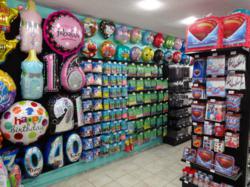 Brooklyn, New York (PRWEB) June 25, 2013
Discount Party Store Developers announces the Grand Opening of Party 2 Parties, a full-service, discount party store located at 1110 Flatbush Avenue, Brooklyn. Party 2 Parties is locally owned and operated by Karen Holton and offers thousands of party items - all at discounted prices.
Whether you need plates, napkins, cups, balloon bouquets or other party supplies, you will find them - and more - at Party 2 Parties. They feature significant savings and personalized, friendly service.
Ms Holton contracted with Discount Party Store Developers (DPSD) (http://www.dpstores.com) to develop Party 2 Parties. DPSD and its parent company, Discount Retail Store Services are North America's largest discount retail store development company. They have assisted over 3,000 independent business owners since 1995 in establishing their own stores. DPSD provides a complete turnkey business, including finance, site and lease assistance, fixtures, merchandise, all labor, training, and free long term support.
According to Bob Kelliher, DPSD General Manager, "Karen was involved in every stage of her store's development - from choosing the location and merchandise, to undergoing extensive training. Her hard work and dedication are sure to make Party 2 Parties a wonderful addition to the Flatbush community. We wish her every success!"
Party 2 Parties is open for business - come join the fun!