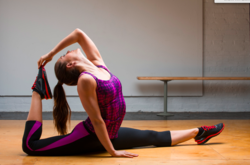 We decided to launch the 'Trainers We Love' program to support this amazing community of women who "walk the walk" each and every day. - Nancie Tripodi, founder of 15love
New York, NY (PRWEB) June 27, 2013
Activewear brand 15love announces the launch of 'Trainers We Love', a national program that promotes female fitness trainers & instructors who inspire us to keep moving, to get out and try new things and to live by the 15love motto that you should always have fun playing.
Participants include Alexandra Shepard of Exhale Spa in Miami, FL, Alisa Wyatt of Pilates-ology in Hermosa Beach, CA, Amanda Freeman of SLT in New York, NY, Angelique Millis of Miami, FL, Elisabeth Halfpapp, founder of Exhale's Core Fusion program, Erica Gragg of Escape To Shape, Gina Bradley of Paddle Diva in East Hampton, NY, Inez Sobczak of Fit-nez in Arlington, VA, yoga instructor Jennifer Ford of New York, NY, Jessica Bellofatto of KamaDeva Yoga in East Hampton, NY, yoga instructor Julie Sample of Concord, MA, Kelly Griffith of Fuel Pilates in Washington, D.C., Kiya Knight of WEightless, Kristen Mercier of Exhale Spa in Chicago, IL, yoga & Pilates instructor Kristin McGee of New York, NY, Lauren and Rachel Piskin of Chaise23 in New York, NY, Natalie Raitano of Barry's Bootcamp, Nicole Uribarri of Exhale in Chicago, IL, and Sarah Purcell of Lents Pilates in Delray Beach, FL.
Nancie Tripodi, founder of 15love says of the program, "We decided to launch the 'Trainers We Love' program for two key reasons. First, we wanted to support this amazing community of women who 'walk the walk' each and every day. Their dedication to the world of wellness and fit living is an inspiration to us all. Second, this is the best group of ladies to give us product feedback on a daily basis! 15love is constantly striving to improve, and this group is helping us deliver better product each and every season."
What sets 15love apart from other activewear brands is its ultra-soft yet supportive fit, a spectrum of on-trend pops of color and styles with playful, interchangeable straps, and hints of femininity like a signature, subtle heart logo. The concept behind the brand is unique as well as it is all about versatility. 15love is for athletes of all types, from dancers and yogis to tennis pros and marathoners. Not just for the gym, they fit seamlessly into one's wardrobe. 15love tanks and leggings take a woman from brunch, to yoga, and then to an evening jog home—fitting right in, even amping up, any active routine.
The line includes sport tanks with detailed seaming such as back pockets, x-back and flare tanks featuring color-blocking and inner shelf bras, performance shorts, slim capris, performance capris, slim leggings, flare pants, flow tanks and s/s sport tees with easy fits that are perfect for tennis. Tennis specific items include ruffle skorts, tennis dresses, and performance skorts.
About 15love
"Feminine styling, impeccably made, and always stylish, " is how 15love founder Nancie Tripodi describes her brand. A successful college athlete and a graduate of the prestigious Wharton School of Business, Nancie began her career in retail with Victoria's Secret. There she gained depth of knowledge about the details that are used in lingerie to ensure great fit and extraordinary details. Later, Nancie moved to the Gap, where she worked in various roles including merchandising and product development for Gap Body. In 2011, she left to pursue her dream and launch her own line of active wear to rave reviews including Daily Candy, which described 15love as "workout gear you're proud to wear at (and outside) the gym".