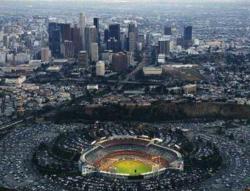 Denver, Colorado (PRWEB) June 26, 2013
Some 78 games into the 162-game regular season, MLB Baseball continues to belt out the hits online, as ticket activity continues to swing higher than all other paid sports events.
Additional trenders over the past several days include the Stanley Cup Finals, NASCAR Quaker State 400 and CONCACAF Gold Cup.
As of today's metrics, the top ten trending sports searches are for the Los Angeles Dodgers, Detroit Tigers, Colorado Rockies, New York Yankees, Pittsburgh Pirates, Texas Rangers, Atlanta Braves, defending World Series Champion San Francisco Giants, Seattle Mariners and Tampa Bay Rays.
Atlanta, St. Louis and Arizona are leading their divisions in the National League. Boston, Detroit and Texas continue to remain atop their divisions in the American League.
"MLB Baseball tickets are trending higher than all other sports events at this time," said Felina Martinez at online ticket marketplace BuyAnySeat.com. "NHL Finals, NASCAR and CONCACAF Gold Cup tickets have also been trending, but not as high."
"That's why we're proud to offer sports fans the most comprehensive and continuously updated selection of tickets online, with a worry-free guarantee to protect their purchase," said Martinez.
"To access the full line-up of MLB Baseball tickets tickets now available, customers can go to BuyAnySeat.com and search for the MLB Baseball – then select their tickets," said Martinez.
The Sports Business Daily recently reported that Major League Baseball's current attendance versus the 2012 season was off by 2.9 percent as of May 29th. The American League is reportedly down 3.7 percent, led by new league entry, the Houston Astros, who have seen attendance fall by 20.9 percent. The National League is down by 1.6 percent, led by the Miami Marlins, with a 38.4 percent drop thus far in 2013.
Many are blaming increased interleague play and bad weather on this year's lower early season attendance. Others point out that the sport cannot continue to grow every year. In fact, the last nine seasons (2004-2012) are the top nine best-attended seasons ever. This includes four successive record-breaking seasons from 2004-2007.
Finally, the 2012 season attendance ranks as baseball's fifth best, making it tough to equal in any year. The sport's other top seasons are: 2007 (1st), 2008 (2nd), 2006 (3rd) and 2005 (4th). (Source: Charles Rishe, Forbes, June 1, 2013)
This year's 162-game season, split between home and away games for each of the sport's 30 teams, runs through Sunday, September 29. MLB Baseball has the highest season attendance of any sports league in the world. (Source: wikipedia.org)
To shop for cheap MLB Baseball tickets, visit BuyAnySeat.com.
About BuyAnySeat.com: An online ticket marketplace, BuyAnySeat.com connects sports, theater and other live entertainment fans to an extensive network of ticket sellers worldwide. The site's simplified listings and navigational tools enable shoppers to easily locate, compare and purchase inexpensive, discounted or lower-priced tickets to virtually all advertised sports and entertainment events around the globe.
The ticket marketplace, which is PCI-compliant and Norton Secured, also provides customers with a complete Worry-Free Guarantee on all ticket purchases. Based in Denver, Colorado, BuyAnySeat.com is a subsidiary of Denver Media Holdings. For more information, please visit http://buyanyseat.com.