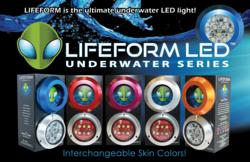 Boise, Idaho (PRWEB) June 27, 2013
LIFEFORM LED™ 'The Wake of The Future' launches new eCommerce website to showcase latest flagship product, the LIFEFORM Series 9.
LIFEFORM LED™ became a leader in underwater LED boat and dock lighting by providing top value and efficiency to boaters around the world. With an output of 2,637 lumens, the LIFEFORM LED™-9 offers more lumens per dollar than its competitors, while drawing less power from the boat. LIFEFORM LED™ backs up these claims by offering customers an unbeatable 5 year warranty, and a 100% satisfaction guarantee.
"Boaters want a light that offers superior value and efficiency," said co-founder Ty Plowman. "They want the brightest light for their dollar, while minimizing the amount of power draw on their boat".
The LIFEFORM Series 6 and 9 are the product of this understanding, and set the standard for LED boat lighting as LIFEFORM LED™ continues their quest to create 'The Wake of the Future'. The LIFEFORM LED™-9 is available in three LED colors (blue, white and green). LIFEFORM LED™ also provides interchangeable skins that encase the lights and match the exterior colors and graphics of the boat's hull.
For more information about the LIFEFROM LED™-9 or any other LIFEFORM LED™ products, visit http://www.lifeformled.com. For those boaters hesitant to install their own boat lights, the new LIFEFORM LED™ website has a resources page with a video and installation guide that will walk them through the entire installation process.