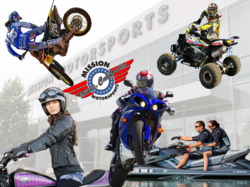 Riding is fun, pure and simple
Irvine, California (PRWEB) June 26, 2013
Robin Matherson, owner of Mission Motorsports, says "Riding is fun, pure and simple. We want to expand peoples' knowledge of our sport, so we're making this event 100% Free. The event is designed to provide an opportunity for riders and people who are considering riding to see, experience and learn about the rider's world. We'll have over 600 vehicles, and the latest in safety and riding equipment and professional riding instructors here on site. Our displays are interactive and allow children and adults to grab the handlebars and sit on these vehicles or try on cool gear and talk with the experts."
Professional Instructors from the Motorcycle Safety Foundation's Saddleback Rider Training and MotoVentures will be here to discuss training for children and adults, and how riders can be better prepared. The CA State Rangers and U.S. Forestry Service will be on site with incredible displays, live animals and information about where to ride and camp. Legendary racers Broc Glover and Bruce Penhall and 16-year-old Road Racing phenom Andre Ochs, winner of Daytona and the prestigious Horizon Award in 2012, will be on hand to talk about racing at all levels. Families involved in riding and racing will be available to meet and talk with parents interested in knowing more about the sport and how they might get involved.
What event would be complete without free stuff and discounts? There will be an awesome Kid-Zone, handmade tacos & drinks, 30% OFF all parts & accessories and huge incentives on vehicles for those that want to jump in. Plus, to make it more exciting, thousands of dollars in prizes will be given away from Noon to 6pm and hundreds and hundreds of giveaway items will be handed out all day.
Here are a few highlights:

Suzuki Factory Demo Rides
Kids Rider Experience and Training Consultations
Safety Equipment & Demonstrations
Factory Reps to meet and talk about the latest vehicles & products
Interactive Exhibits
Professional Helmet & Safety Gear Fitting
Customized Vehicles
Kids Strider Bike Demos
Custom Bike Shows
Dyno Shootout
Burnout Contest
Experience Yamaha Waverunner on the water in our pool
Kid-Zone with Video Arcade, Bouncy and more…
Interactive Displays and Demonstrations
Rider Experts & Professional Trainers for Adults & Kids
Meet and pick the brains of Factory Reps & Experts from more than 15 major vehicle and product lines
"Looking forward to seeing you at Mission Motorsports 30th Anniversary Event on June 29th."
Event Location: Mission Motorsports, 1 Doppler, Irvine CA 92618 – 800-292-5328
Media Contact: Max Opp Marketing for the 30th Anniversary BASH:
John Vaughan-Chaldy, 760-494-0294 – customercare(at)missionmotorsports(dot)com