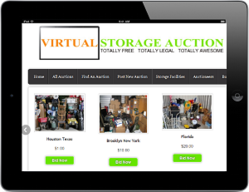 Our site is totally free. We don't charge any fees to the buyer or the seller. Whatever you make from the unit is yours to keep.
Houston, Texas (PRWEB) June 26, 2013
Sometimes, people end up storing items simply because there is no other easy way to dispose of them. When people move or acquire new furnishings, they must dispose of their existing furniture and other belongings, and temporarily storing them can seem like a less daunting task than finding a buyer or hauling them away to the dump.
Storage units can quickly fill up with items that don't fit inside their owner's home, even if the owner doesn't particularly want to keep them. Over time, the owner may forget exactly what's inside the unit or why he ever stored these things in the first place.
Rather than paying money each month to store items that you don't care about, consider selling them through an online storage auction. This helps you to get rid of the unwanted items while putting some money in your pocket. You can get out of debt to the storage facility and experience the relief of being free of extra belongings. Best of all, you can do it without the time and effort required to sell the items individually.
When it comes to selling household items like furniture and appliances, most people think that the only methods are postings on Craigslist or yard sales. While these methods can work, they're not always effective and can take up a lot of your valuable time and energy. If you've shied away from selling your items in the past because of the effort involved, you can skip all of these steps and have the work done for you instead.
This sales method is quite simple. First, take some good photos of your storage unit. Next, list the photos and a description of the unit's contents on VirtualStorageAuction.com and set your starting bid. Resellers and people looking for good deals are interested in buying your stuff. Once the storage unit auction has finished, we'll get the buyer in contact with you to exchange the money. From there, it becomes the buyer's responsibility to empty out the unit and deal with all of your items.
If, for some reason, the buyer doesn't follow through, you can contact the next-highest bidder and so-on until a buyer is found. Even if the unit doesn't sell, you're not out anything: Our site is totally free. We don't charge any fees to the buyer or the seller. Whatever you make from the unit is yours to keep.
So instead of wasting money on storage for items you don't want, consider selling them to someone through a virtual storage auction. You save money and the embarrassment of losing the unit if you fall behind in payments. Put some money in your pocket and enjoy the freedom of not having so much clutter to worry about.
VirtualStorageAuction.com is a free service created by TCL Media Group for the self storage industry. TCL Media Group also owns and operates other great websites like Storage Auction Forums and Texas Storage Auction Schedules & News.