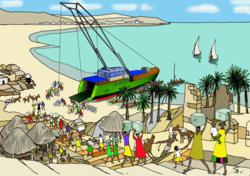 Our first ship build is now underway and our project to provide affordable, low impact and flexible sea transport to millions is blossoming - now ... we will be able to deliver that message much more effectively around the world.
New York, NY (PRWEB) June 27, 2013
The Organic Ideas that Matter Giveaway (http://www.Ideas-That-Matter.com) launched on January 1, 2013. Participants from across the globe were invited to participate and share their ideas that matter, big or small, about a product, service, offering, work of art, concept, solution, cause, revolution, movement or mission that they wanted to take from passion to action in 2013. What is an Idea That Matters? This video explains it all: http://www.ideas-that-matter.com/what.php.
After a very thorough, challenging and emotional deliberation process, the Greenheart Project was declared the unanimous winner due to the significant social, environmental and economical impact this idea could have on the world. Greenheart is a completely fuel-free, sail- and solar-powered small ship specially designed to provide marginalized coastal communities around the world with an affordable means of sustainable marine transport. The ship can also serve as a mobile solar power station when in port. Originally based in Tokyo, Japan, and now also with offices in Europe, the Greenheart Project is currently building its first ship in Bangladesh.
"While we received many submissions that moved, motivated, touched, educated and amused us, and that demonstrated a significant potential for making a meaningful, positive impact on the world, the entire project team agreed that this was the idea that we wanted to dedicate our time to," said Michelle Molin, Ideas That Matter Partner. She continued, "We are all incredibly excited about this collaboration and feel truly honored for the chance to help get such an amazing idea the attention that it deserves."
Greenheart's prize for their winning idea submission is the creation of a new custom video, website and mobile site that will live at http://www.greenheartproject.org to be developed by Organic Communications, the creators of Ideas that Matter giveaway.
"Our first ship build is now underway and our project to provide affordable, low impact and flexible sea transport to millions is blossoming - now with Michelle and the help of her Organic Communications team, we will be able to deliver that message much more effectively around the world," said Greenheart's Commercial Director Gavin Allwright.
"The new web and mobile sites and the motion graphic video will be designed to help Greenheart build an engaging and interactive online presence that is a direct extension of what the organization stands for," Michelle continued. "Our goal is to create a powerful partnership between The Greenheart Project and Organic Communications that will ultimately result in more powerful partnerships between Greenheart and all of their current and prospective project recipients, contributors, sponsors and supporters."
Director of Greenheart Project, Pat Utley said, "We always knew that we had an idea that mattered. What really matters to us now is getting that idea out to people who care about solutions so we can convert our idea into reality. The kudos, prize, and now the expertise of the Organic Communications people are heartening and timely. We're proud to be working with them."
ABOUT IDEAS THAT MATTER
Ideas that Matter (ITM) was created by a bunch of creative storytellers at Organic Communications with a shared drive to inspire using strategy, content, design and technology. Organic Communications is a strategic integrated marketing boutique founded in 2007, dedicated to helping clients build relationships through the development of distinctive and engaging communications strategies that ignite emotions, enhance connections and encourage growth, delivered via traditional and interactive marketing tactics. Areas of specialization include strategic planning, branding, logo design, interactive marketing, print advertising, collateral development, content development and biscotti baking.
To learn more about Ideas That Matter visit: http://www.Ideas-That-Matter.com
To learn more about Organic Communications visit: http://www.OrganicCommunications.com
Contact: Michelle Molin, Organic Communications Director
P: +1-347-561-7686
ABOUT GREENHEART PROJECT
Greenheart Project, an international non-profit organization founded in Tokyo, Japan, is building the world's first fuel-free, container-ready commercial vessel. The small sail-solar ship is specially designed for use by communities in marginalized coastal communities and can serve as a mobile solar power station. It will be built in Chittagong, Bangladesh and launched as early as next year.
To learn more about Greenheart Project visit: http://www.greenheartproject.org
Pat Utley, Greenheart Director
patutley(at)greenheartproject(dot)org
P: +81-80-2019-5616