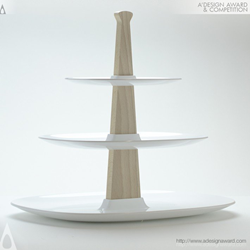 Como, Italy (PRWEB) June 26, 2013
A' Design Award and Competitions are delighted to announce that the project Temple by Chris Woodward became a winner of the famous Platinum A' Design Award at Bake Ware, Tableware, Drink Ware and Cookware Design Category. Winners are elected by the international judges of the A' Design Award & Competition within numerous designs.
Regarding Temple
Growing popularity of home baking accelerated a need for a modern looking contemporary cake stand, which could be easily stored in a cupboard or drawer. Together with that, it is important to make it ergonomic and functional yet easy to clean and compatible with other kitchen ware such as dishwashers. Hence, award winning project Temple arrived with the main function of simplified and intuitive assembling by storing three level plates over the central tapered spine. All 4 main elements of a product are held together by the innovative element named stacker. The stacker helps to keep all the elements together for compact storage both in the vertical or horizontal position. Moreover, different number and sizes of plates can affect the overall configuration depending on the occasion. To learn more about Temple, please visit: http://www.adesignaward.com/design.php?ID=26761.
The Platinum A' Design Award
The Platinum A' Design Award is a prestigious award given to top 1% percentile designs that has attained an exemplary level of excellence in design. The designs are judged by a panel of three different jury which is composed of Academic, Professional and Focus Group Members. The designs are evaluated with score normalization to remove any biases and are voted on aspects such as functionality, ergonomics, engineering, presentation, innovation, usability, fun details, technology, and any other specific points that could be considered, each of these points are further weighted for different jury groups.
About A' Design Award and Competitions
A' Design Award and Competitions aim to highlight the excellent qualifications of best designs, design concepts and design oriented products. A' Design Award and Competitions are organized and awarded annually and internationally in multiple categories to reach a wide, design-oriented audience. To learn more visit: http://www.whatisadesignaward.com.