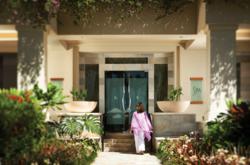 We are pleased to be the first spa in Hawaii to introduce this FDA-approved therapeutic laser treatment to our guests," says Pat Makozak, senior spa director at The Spa at Four Seasons Resort Maui.
Maui, HI (PRWEB) June 26, 2013
Four Seasons Resort Maui at Wailea today launched an innovative, non-invasive, painless and effective laser therapy treatment plan to assist in the eternal quest for beauty as part of its award-winning spa menu of services. This advanced laser body shaping treatment is called I-Lipo by Chromogenex™ and is designed to tighten skin, reduce cellulite and contour bodies in those hard-to-lose problem areas.
After an initial consultation with Dr. Mark Emerson, DC, CSSP, a specialist in clinical nutrition and natural treatment methods, a treatment plan is customized for each guest. Targeted to specific areas of the body such as the abdomen, thighs, butt, chin and upper arms, results are both measurable in the short and long-term. Dr. Emerson explains the process: "I-Lipo uses low level laser technology to stimulate the body's natural process for releasing stored fat from fat cells, thereby shrinking the cells and reshaping the body."
"We are pleased to be the first spa in Hawaii to introduce this FDA-approved therapeutic laser treatment to our guests," says Pat Makozak, senior spa director at The Spa at Four Seasons Resort Maui. She adds that the eight sessions are recommended to see the most improvement. Each session is followed by 30-40 minutes of cardio exercise at The Spa's gorgeous outdoor facility, with workouts designed to stimulate the lymphatic system and help eliminate toxins from the bloodstream.
Along with the treatment plan comes a clinically designed high-nutrient menu that participants are encouraged to follow. Dr. Emerson adds that tests show results can last if a stable caloric intake is maintained. "The beauty of this program is that results can last forever if the patient keeps a healthy diet and exercise program."
"At Four Seasons Resort Maui, we are always seeking new treatments and products to help our guests enhance their mind, body and spirit and achieve healthful living," says Makozak, who points out that I-Lipo will be performed in a controlled, supervised environment, with treatments scheduled for short periods of time so as not to preempt vacation time. "This is a painless way to reduce cellulite and get a slimmer, tighter shape, with no down time."
The I-Lipo session price starts at $450 per single treatment. Customized plans are available to take full advantage of The Spa's many unique and special services including complementary massage therapies and fitness activities.
As part of the resort's new "WeTime/MeTime" program for families, parents can take advantage of the new I-Lipo treatments on their "MeTime" while the kids enjoy many activities designed just for them. Losing a few inches is also appealing to soon-to-be brides and their wedding parties – to ensure great wedding photos.
The Spa at Four Seasons Resort Maui is world renowned for its commitment to innovation, the continuous introduction of new results-oriented wellness services and products, and for its high caliber therapists. This award-winning spa features three outdoor authentic Hawaiian treatment hales overlooking Wailea Beach in addition to world-class spa facilities. For information, contact The Spa at 808-874-8000 or visit http://www.fourseasons.com/maui
Four Seasons Resort Maui is nestled on 15 acres of the breathtaking Wailea Coast. The 380-room oceanfront property is world-renowned for its comfortable opulence, impeccable service, luxurious amenities, and for living in harmony with its environment and community. The resort is also home to one of the nation's top-rated spas committed to wellness and to three of Hawaii's most acclaimed restaurants - Ferraro's Bar e Ristorante, Spago Maui and DUO, a premium steak and seafood restaurant. This sophisticated home away from home caters to the needs and interests of all generations offering world-class activities and one-of-a-kind Unforgettable Events, a museum quality art collection, and three pools overlooking the azure-blue Pacific Ocean including an adults-only Serenity Pool with exclusive Missoni-designed cabanas. Four Seasons Resort Maui is a Hawaiian vacation destination geared to action adventurers, those guests wishing to practice the fine art of doing nothing at all, and everyone in between.
Media Contact: Charlotte Novom | Novom Marketing, Inc. | 714.941.9799