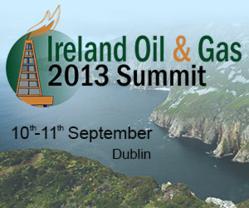 It's an IRN Summit!
Dublin, Ireland (PRWEB UK) 26 June 2013
Last year, an Irish oil field was found in the Celtic Sea, and earlier this month, the Department of Communications approved a major seismic survey of Ireland's Atlantic coast, highlighting their intention to effectively exploit the oil and gas reserves that the whole country holds. In every respect, it seems as though Ireland has a lot to offer by way of hydrocarbon resources and this is now being widely recognised as it can prove to be a huge boost for an economy in recession, attracting foreign investors and increasing national competitiveness. If done effectively, Ireland's economic growth can mirror those of other similar countries involved in exploration projects.
IRN brings you the Ireland Oil & Gas 2013 Summit on 10th - 11th September in Dublin to examine all the issues involved in the oil and gas exploration of the country. The Summit will welcome senior level representatives from the Department of Communications, Energy and Natural Resources and the Managing Director of Petrel Resources, the company that have found one billion barrels of oil off the south-west coast of Ireland in November 2012. These, among many other high-level experts, will be part of the Speaking Faculty and will share their insights on the prospects and opportunities as well as barriers and challenges around the exploration.
To give a strong countrywide perception, the morning sessions of the second day of the Summit will be devoted to giving a sound overview of the oil and gas sector in the province of Northern Ireland. Michael Young, the Director of Geological Survey of Northern Ireland will give a Keynote presentation on behalf of the Department of Enterprise, Trade and Investment, to provide the delegation with an understanding of the latest licensing rounds and a historical overview of the industry within Northern Ireland. There will also be a prospect showcase for an offshore Northern Ireland block, and a presentation by Northern Irish Geologist and Entrepreneur, Susan Morrice. She is the Director of both Clannah Natural Energy and Belize Natural Energy and will talk about her experience in implementing a holistic, green approach to exploration and production in Belize, and how the same methods could be successfully applied to Northern Ireland as well as the Republic of Ireland.
IRN, the global summits organiser behind this project, has an established reputation in the oil and gas industry having organised exceptional meetings focusing on different oil and gas rich regions around the world. Amongst our most recent, highly acclaimed Summits are the Lebanon Oil & Gas Summit, the 2nd Cypriot-Greek Oil & Gas Summit and the 2nd New Libya Oil & Gas Forum, all of which took place this year.
More information can be found on the website http://www.irelandsummit.com, while for regular updates follow IRN Oil and Gas on Twitter, @IRN_OilandGas and join the LinkedIn Group 'The Oil & Gas Network'.