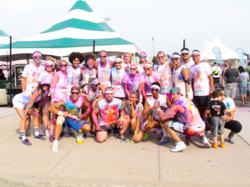 New York, NY (PRWEB) June 26, 2013
The Children's Cancer & Blood Foundation (CCBF) is proud to be the official charity partner of The Color Run®, NYC at Aviator Sports in Brooklyn on Saturday, July 6th and Sunday, July 7th. Donations from this event will support the clinical care of children with cancer and blood disorders, as well as to support research and a fellowship training program in pediatric hematology and oncology.
As The Color Run® has grown in popularity in cities around the world since its launch in 2012, registration is sold out for the July 6th & 7th race dates. Fortunately, there is still space available to run on the CCBF team on Sunday, July 7th. Volunteering is another fun way to get involved with this summer's Color Run. CCBF is looking for volunteers that are available to help out between the dates of July 4th and July 7th. Volunteers can help with a variety of tasks – from pre-race day packet distribution, to registration and paint throwing on the race days. For more information, visit http://www.childrenscbf.org, call 212.297.4336 or email info(at)childrenscbf(dot)org.
The Color Run® is a unique and fun race, also known as the Happiest 5k on the Planet. This race celebrates happiness, healthiness and giving back to the community. It encourages people of all ages and backgrounds to participate, whether they are a first time runner or a professional athlete. This run is less about speed and more about having fun with friends and family in a unique and healthy environment. 60% of Color Run Participants are first time runners, and the event is continuing to gain national attention to improve health and wellness. The Color Run® also focuses on giving back to the community, choosing a local charity in each city that it visits. While CCBF participated in this run last year, the organization is honored to be the official charity for the 2013 NYC Color Run®.
For over 60 years, CCBF has been proud to support the extraordinary team of doctors and researchers of the Division of Pediatric Hematology and Oncology of New York-Presbyterian Hospital/ Weill Cornell Medical Center. CCBF's support has attracted and retained a group of world-renowned experts on the treatment of multiple pediatric blood disorders and cancers, including hemophilia, sickle cell anemia and leukemia. Every year, our physicians treat more than 1,000 children through more than 10,000 inpatient and outpatient visits. CCBF support ensures that no child is ever turned away from services, regardless of his or her ability to pay.