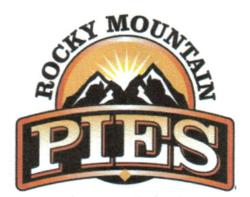 RMP is focusing on the demands of their consumers.
Salt Lake City, Utah (PRWEB) June 30, 2013
What can be learned from savvy pie manufacturers?
In an effort to continue their aggression level of advanced engagement and innovation, Rocky Mountain Pies has implemented direct methods of communication with consumers. As frozen dessert suppliers and makers of quality pastry, they have learned to listen to the people who enjoy their product on a regular basis. If, for example, someone wants to comment on their fruit pies, and they have a suggestion, or complaint; the company wants to know immediately. There has been an incredible amount of focus on what the customer ultimately wants, and the data collected with this new open line of communication will also help grocery store buyers.
"There are a lot of pie manufacturers who choose to turn a deaf ear to the consumer," said Mark 'Par' Grandinetti, President of Rocky Mountain Pies, "but we feel that the consumer is a vital part of our process, and want to stay informed on what they really like… or dislike." The new direct lines of communication are currently posted on the website, where a consumer can give the company direct feedback through email or a phone call. This removes the anonymity that many frozen dessert suppliers prefer, and will maintain a level of public relations credibility for the company. It also opens up new territory for innovations similar to the popular new fruit pies the company has created with multiple flavors of fruit in the same carton, such as: Red, White, and Blue pie.
In the spirit of keeping themselves aware of what the market desires, these innovative pie manufacturers don't seem to be slowing down. The company has increased its social media presence; both in the areas of pastry development, and as frozen dessert suppliers. This new direct line of communication will help to shape the future of the company for years to come. From the smallest compliment about their fruit pies, to the largest demand for a new, popular selection or flavor; the executive team will be receptive. For those who have as much of a passion for great pastry as the founders of the company, they will have a platform for their voice, and that voice will be heard. This is yet another method the company is using to engage the public, and further their development process. While all the advances that RMP are achieving are proving to be beneficial, they promise not to stop providing rich, flaky pastry crusts, and desserts that will stop the shopping cart. For more information, please visit: http://www.rockymountainpies.com.