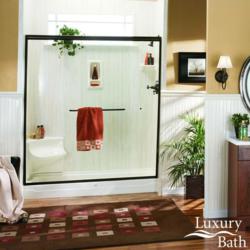 Glendale Heights, IL (PRWEB) June 26, 2013
Household needs in the United States are constantly changing, especially in the bathroom. Now more than ever, people are springing for the easy convenience of bathroom showers instead of bathtubs for their bathroom needs. Recent studies have found that bathroom showers are growing in popularity, with bathtubs losing ground as part of the daily cleansing ritual.
According to marketing research conducted by bathroom remodeling company Luxury Bath, aside from families with young children, most bathtubs are rarely being used in the bathroom. The bathroom remodeling company also reported that because of recent trends, its bathroom showers are now outselling its bathtubs altogether. A report by Ideal Standard supports this growing trend that households that use bathroom showers do so because of time saved and ease of use.
"Our bathroom remodeling customers are looking for a spacious and efficient shower experience," said Davis Glassberg, President of Luxury Bath. "With more people on the go, customers enjoy the therapeutic benefits of a quick hot shower rather than waiting to fill up a standard 40 gallon bathtub."
Bathroom showers also have an advantage with Universal Design, as they are easier to use as bathers grow older. Eliminating the need to step over high bathtub thresholds, bathroom showers provide better aging in place options with easier mobility and independence for bathers.
Taking advantage of the growing shower movement, bathroom remodeling manufactures like Luxury Bath continue to evolve and enhance the shower experience by designing more comfortable bathroom showers. Besides its showers and tub to shower conversions, the company provides shower seats, shower foot rests, and hand held shower heads that help make showers even more appealing and efficient.
About Luxury Bath
Luxury Bath (http://www.luxurybath.com) has been providing one-day bathroom remodeling updates and ideas since 1991. Supplying over 900 different bathroom remodeling companies across North America, Luxury Bath offers customers new bathroom ideas and provides high quality affordable bathroom remodeling products.