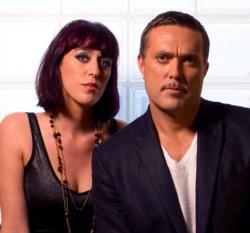 "I can't help but want to go deeper into creating more complex music with our sound. Just because it's Tech House or EDM it doesn't mean it has to be the same thing everyone else is doing." - Gunn
Chicago, IL (PRWEB) June 27, 2013
Along with their cover of Sonique's "It Feels So Good," Electronic Dance Music (EDM) act (We Are) Nexus have announced their plans to simultaneously release their "Sound of the Beat" EP.
Releasing on August 6, 2013 through Shotgunn Productions, the "Sound of the Beat" EP contains two new, original tracks: "Sound of the Beat" and "Eye for an Eye," and will feature both an extended mix and radio edit for each track.
Unlike their cover of Sonique which was reinvigorated with a modern Trance production, the "Sound of the Beat" EP features a deep, Tech-House vibe while still keeping the advanced musicality that (We Are) Nexus have come to be known for.
Being a seasoned composer and musician with twenty years experience in world music and over two million in total sales of his works under the name Nicholas Gunn, (We Are) Nexus producer Nick Gunn drew from his past in world music to create the unique sound heard on "Sound of the Beat." "I can't help but want to go deeper into creating more complex music with our sound" says Gunn. "Just because it's Tech House or EDM it doesn't mean it has to be the same thing everyone else is doing."
With driving congas and a subtle acoustic guitar line, "Sound of the Beat" is reminiscent of Tube and Berger's "Imprint of Pleasure." Combined with a sultry lead vocal from vocalist Carmen Rainier, the result is a highly memorable hybrid of Tech House and World Music that is fresh and invigorating.
"Eye for an Eye" on the other hand is reminiscent of a cross between Eric Prydz and Lanny May. With strong, techy melodies, pulsating rhythms, and smart and sexy lyrics like "Hell has no fury like a woman scorned/Heaven has no rage like love turned to hate" from Rainier, "Eye for an Eye" is sure to become a classic.
The "Sound of the Beat" EP ultimately showcases a new side of (We Are) Nexus, one that is sure to turn heads with its unique spin on current EDM stylings that only Nexus can provide.
The "Sound of the Beat" EP will be released through Shotgunn Productions on August 6th, 2013 and will be available from all major on-line stores wherever music is sold.