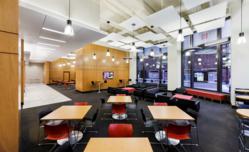 (PRWEB) June 25, 2013
A major renovation project at The John Marshall Law School in Chicago has been selected for inclusion in the 2013 American School and University Educational Interiors Showcase, a premier competition honoring interiors excellence.
The panel of Educational Interiors Showcase judges selected 80 projects to be featured in the August issue of American School & University. The John Marshall Law School work was judged in the interior renovation category.
The John Marshall project converted more than 3,600 square feet of first floor retail space into a new student commons, cafeteria and main entrance onto Chicago's State Street, a main downtown thoroughfare. The new entrance is set off by a glass canopy and students walk into an expansive entryway. A specially-designed glass and steel staircase off the lobby gives students access to the renovated student lounge area on the second floor.
The project came in under the $7 million budget. Once the space was cleared, it took 12 months to execute the renovations, which were carried out by general contractor Bulley & Andrews LLC. The architectural firm was Griskelis Young Harrell Architects of Chicago.
The law school has owned the property at the intersection of Jackson Boulevard and State Street since April 1979 and had occupied the top 11 floors since the 1980s. With an enrollment of more than 1,600 students, the law school needed additional space. Converting the first floor space for law school use gave John Marshall a grand entrance onto Chicago's Education Corridor and greatly improved its student-centered space.
About The John Marshall Law School
The John Marshall Law School, founded in 1899, is an independent law school located in the heart of Chicago's legal, financial and commercial districts. Through classes, clinics and special programs, students develop the strategic, analytical and transactional lawyering skills that are so valuable to employers. Its excellent curriculum, coupled with outstanding skills and experiential learning, help make John Marshall graduates practice-ready from day one. For practicing attorneys, John Marshall offers nine LLM degrees, more than any other law school in the Midwest. John Marshall is also a leader in providing distance education options in intellectual property, estate planning and employee benefits at the advanced graduate degree level. John Marshall offers six clinical experiences, including the nationally recognized Veterans Legal Support Center & Clinic and the Fair Housing Legal Clinic. U.S. News & World Report's America's Best Graduate Schools 2014 edition ranks John Marshall's Lawyering Skills Program second and its Intellectual Property Law program 12th in the nation.