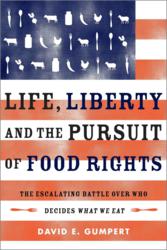 David Gumpert plucks out some of the most salient battles in this current food war and brings them to our awareness with the storytelling genius of a spy novel. The intrigue, the angst, the heartache and heroism are all displayed.
—Joel Salatin
Burlington, VT (PRWEB) June 26, 2013
At a time when more and more people are turning away from a broken, industrial food system, a damning new book by food and business expert David E. Gumpert documents an expanding, organized national and state investigation and enforcement regime aimed at stopping direct sales of food between farmers and consumers.
Featuring a Foreword by rebel farmer Joel Salatin, Life, Liberty, and the Pursuit of Food Rights: The Escalating Battle Over Who Decides What We Eat explores the emerging conflict over whether Americans retain the right to privately buy the foods they want from farmers and neighbors—rights their grandparents and great grandparents held.
Do we have those rights to eat what we want? Government regulators, and the courts, are increasingly saying "no." Meanwhile, farmers and consumers are saying "yes".
Using court filings, emails between government officials, internal investigative reports, and interviews with farmers, Life, Liberty, and the Pursuit of Food Rights details, for the first time, the legal and personal linkages between the cases.
The book features cases from California to Pennsylvania, including four Amish farmers who have been targeted by government officials. One such Amish farmer is Vernon Hershberger, of Wisconsin, who was acquitted in late May of three criminal misdemeanor charges related to failure to have retail and dairy licenses. Hershberger was convicted of a fourth charge of violating a hold order, and fined $1,000 plus over $500 of court costs.
The U.S. Food and Drug Administration has sought to portray these various enforcement actions as discrete and random local actions, but Gumpert reveals that these investigations and legal actions against the farms nearly all originated because the farms were making raw milk available to small groups of consumers on a private basis—via membership-only food clubs, lease arrangements, and herd-share groups organized by a California nutritionist. Government efforts then generally expanded to target other foods as well, challenging the right of the farmers to sell any food privately, without retail and other permits.
A sweeping look at the government crackdown on local farmers and families, Life, Liberty, and the Pursuit of Food Rights also provides salient, new details into the lengths in which regulators will go to crack down on the right to buy and sell food.

How Wisconsin agriculture regulators involved a special state prosecutor to file criminal charges against Wisconsin raw milk farmer Vernon Hershberger, after a local prosecutor steered clear of the case;
How the U.S. Justice Department halted an FDA-initiated grand jury investigation of an Indiana Amish farmer under pressure from a local sheriff;
How FDA administrators offered to local investigators additional money to pay for costs associated with one long-term investigation of an Amish farmer serving a Maryland food club;
How Amish farmers around the country desperately sought out legal assistance from non-lawyer advisors because their religious beliefs inhibited them from actively defending themselves in court;
How California investigators used video cameras hidden in investigators' purses and shirts to gather evidence at assorted farmer's markets against a Ventura County farmer;
How FDA inspectors showed up dressed in military fatigues and boots at a small Missouri cheese producer associated with one farm and food investigation;
How Maine regulators used outbreaks from a parasite often associated with tainted water to mount investigations of dairy farmers producing raw milk in that state, and blamed FDA pressure for the need to tighten regulation;
The role of product liability lawyers in creating pressure on regulators to aggressively pursue investigations of raw milk producers in the interests of food safety; and,
How local prosecutors dangled offers of reduced sentences in front of farmers and food club operators to convince them to end their cases.
Gumpert is available for interviews, as are several of the farmers and food club owners described in the book.
Media Contact: Lettie Stratton, Chelsea Green Publishing
LStratton(at)chelseagreen(dot)com
802-295-6300 x 127