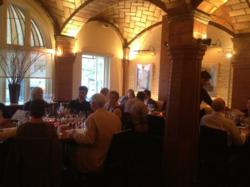 Greenwich, CT (PRWEB) June 25, 2013
Summer is here! It's time to start thinking about parties! From weddings and baby showers to corporate events and fundraisers, Morello Italian Bistro is the ideal setting for any occasion or celebration. Positioned in the heart of Greenwich Avenue, Morello offers diners outstanding Italian-influenced cuisine, exceptional wine and superior service in a stylish and energized setting.
Morello is located within a historical landmark building designed by Rafael Guastavino Jr., featuring interior tiled arches and vaulted ceilings with skylights. The restaurant features second-floor private event rooms overlooking the main dining room, bar and lounge below, offering a unique position below the famous Guastavino tile vaulted ceiling. Morello can accommodate up to 80 guests on the first mezzanine and 65 guests on the second mezzanine, with an overall restaurant capacity of up to 250 guests.
Morello's menu is inspired by Italian and Mediterranean favorites, along with modern interpretations created by Executive Chef Kevin Garcia. Chef Garcia brings more than two decades of celebrated culinary experience to his role, having worked at restaurants such as Jean Georges Vongerichten's Prime Steakhouse at the Bellagio Hotel and Casino in Las Vegas, NV, and Mario Batali's Lupa in New York City. At Morello, Chef Garcia has created a menu inspired by three of his favorite regions in Italy: Rome, Tuscany and Sicily, incorporating local ingredients into his dishes whenever possible.
In addition to hosting private affairs, Morello frequently holds special events including wine and charity dinners. Morello also participates in community events which include Greenwich Fashion's Night Out, Greenwich Restaurant Week and Art on the Avenue. At Morello, attention to detail is paramount. Whether celebrating an anniversary, wedding, rehearsal dinner, birthday or holiday for 10 or 200 people, the Morello team will make it an event to remember.
Morello Italian Bistro is located at 253 Greenwich Avenue, Greenwich, Connecticut. The restaurant serves lunch Monday–Friday 12:00pm-4:00pm and dinner Monday–Thursday 4:00pm- 9:30pm, Friday–Saturday 4:00pm-10:30pm and Sunday from 4:00pm-9:00pm. Brunch is served on Saturdays 12:00pm-4:00pm and Sundays 11:30am-4:00pm. Reservations are accepted and can be made by calling (203) 661-3443. For additional information, please visit http://www.morellobistro.com.