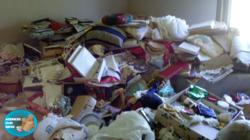 Biohazard remediation is necessary when the presence of bodily fluids, feces, urine, and vomit are present.
Mount Laurel, NJ (PRWEB) June 27, 2013
Finding help for hoarders is an ongoing phenomenon that has gripped the nation since the debut of documentaries like A&E's Hoarders in 2009. Most cases involve massive amounts of clutter, a manageable scenario for hoarders searching for help. But what happens when clutter turns to chaos?
The latest trend being uncovered in hoarders' homes is the presence of gross filth. Gross filth cleaning refers to hoarding situations that involve distressed residential and commercial properties that are so unsanitary that a multitude of health and environmental risks are ever present.
Address Our Mess, an industry leader in hoarding and clutter cleanup services, states that they are now offering Gross Filth Cleaning to their customers along the East Coast (including Florida and Georgia.) This service combines traditional hoarding and clutter cleanup with biohazard remediation. Biohazard remediation is necessary when the presence of bodily fluids, feces, urine, and vomit are present.
A plethora allergens, pathogens, and other viral and bacterial hazards threaten the health of the people and the animals living amongst such horrid conditions. These infectious agents can cause serious illnesses and diseases in humans and animals alike.
Gross filth leads to gross neglect of the property. Many hoarders living amongst these conditions allow their property to fall victim to rodents, insects, domesticated animals, and wild animals. These pests can physically eat at the materials that hold a home or business together. Pests can also disassemble certain parts of the property (i.e. drywall, insulation, wood, carpet, upholstery, fabrics) to use for nests. Their excrement can degrade the quality of fabric, wood, and other materials causing further dilapidation.
Ongoing neglect can cause areas of the property in desperate need of repair to go unnoticed. The following occurrences can cause structural damage so severe that a pending collapse is inevitable:

Sewage Damage
Leaks
Pipes bursting
Roof/Structural Damage
Mold Infestation
Prevention of such occurrences and other forms of neglect can be found on Address Our Mess' hoarding frequently asked questions page.
Only certified professionals should perform gross filth cleaning. The Institute of Inspection Cleaning and Restoration Certification (IICRC) and the Institute for Challenging Disorganization are amongst many industry regulators who govern hoarding cleaning professionals. The use of OSHA-approved cleaning agents and practices during hoarding cleaning services is also recommended to ensure the property is safe for inhabitants to return once the project has finished.