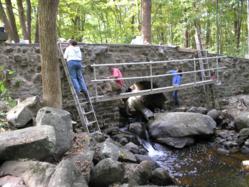 AiP's innovative approach fosters meaningful and communal work resulting in the preservation of historic sites.
Boulder, CO (PRWEB) June 27, 2013
Experiential travel provider and global building conservation organization Adventures in Preservation (AiP) is encouraging people to nominate projects to receive AiP assistance. AiP conducts ongoing reviews of nominations in order to select projects that provide quality educational and travel experiences at worthy historic sites. Sites throughout the U.S. and around the world in need of preservation, stabilization, restoration and/or creative adaptive re-use are eligible.
Projects receive priority if buildings have historical significance to their community or country; need the assistance of volunteers to lower the cost of preservation work, which otherwise may not proceed; and provide a use that will contribute to community stability.
"AiP's interdisciplinary preservation experts and architectural teams will help communities bring selected projects to reality through the work of citizen preservationists," said AiP executive director, John Rossi.
AiP also considers the extent to which their involvement will create a ripple effect through investment of time and funds that can positively impact lives and micro-economies within the community.
A substantial portion of the project's physical work is completed by AiP's international inter-generational teams who receive hands-on training at the same time, ensuring all parties benefit.
"AiP's innovative approach fosters meaningful and communal work resulting in the preservation of historic buildings as well as their stories." said Rossi. "At the roof of it, people make preservation happen."
Community members can become involved both through the nomination process and by joining international participants on site. The process begins by submitting a nomination to AiP via the Nominate a Project form on the AiP website.
Adventures in Preservation (AiP) has helped to preserve more than 30 significant historic sites in seven different countries since 2001. Headquartered in Boulder, Colorado with offices in Basil, Switzerland and Boston, Massachusetts, AiP has projects under development in Slovenia, Italy, Albania, Ghana and the US. The current round of nominations will continue through the end of 2013.
Adventures in Preservation (AiP) is a non-profit offering enriching experiential travel that safeguards cultural heritage and fosters community sustainability by connecting people with historic preservation. AiP participants engage with communities and experience the culture unique to their destination, while receiving preservation training from experts. AiP's citizen preservationists gain new skills, satisfy their sense of adventure, and connect with community members who are truly making a difference. Learn more about AiP's "Heritage travel with purpose" at http://www.adventuresinpreservation.org.