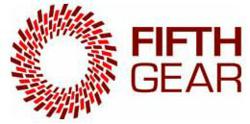 Indianapolis, IN (PRWEB) June 26, 2013
Indianapolis-based order fulfillment provider Fifth Gear announced today that it has won a $10,000 cash prize for its corporate charity of choice, Wheeler Mission Ministries, through Companies With A Mission's 2013 Indiana Service Challenge. The company performed a day of service at Wheeler's Center for Women and Children in April to win the award.
Wheeler's Center for Women and Children is a 90-bed facility located in downtown Indianapolis that provides food, housing, and social services for homeless women and children. For its inaugural CWAM project, Fifth Gear team members disassembled an old, outdated playground on the property and installed new commercial-grade equipment better suited for extensive use by the center's youngest residents. Additional employees performed general maintenance tasks, such as painting a utility shed and weeding the center's community garden, that are often pushed back in lieu of more pressing concerns.
"Companies With A Mission's Indiana Service Challenge has given a number of Indiana companies a leveraged roadmap for assisting charities in our community," said Fifth Gear CEO Al Langsenkamp. "It is a wonderful gift that so many businesses and their employees came out to serve the many needs of our area. The project completed by Fifth Gear's dedicated volunteers will aid Wheeler's clientele, but the cash prize awarded by CWAM will give Wheeler the opportunity to better serve them."
The winning monies will be used to purchase 76 additional sleeping cots to accommodate more homeless men who visit the Wheeler's main shelter each night as well as to begin construction on a two-story elevator for the facility. The new elevator will allow disabled patrons who cannot climb the building's stairs access to the main sleeping and eating areas in the mission.
To be eligible for monetary awards, each company was required to submit a detailed review of its project, a proposed budget and plans for its use, and a photo or video slideshow documenting the project and its impact for the selected charity. For more information about Companies With A Mission's Indiana Service Challenge and to view Fifth Gear's winning submission, please visit http://www.cwam.com.
###
About Fifth Gear
Fifth Gear (http://www.inFifthGear.com) provides outsourced order fulfillment, contact center care, retail technology and marketing services to specialty retailers and manufacturers of consumer products. The Company serves as a single source partner to its clients, providing access to the industry expertise, infrastructure and technology they require to drive revenue growth. Fifth Gear is privately-held and headquartered in Indianapolis, IN, with additional locations in Louisiana, MO, Moberly, MO and Hazle Township, PA. The Company serves over 75 ecommerce and catalog retailer brands today and continues to expand its portfolio of unique offerings for its direct-to-consumer retail clients.
About Companies With A Mission
Companies With A Mission (CWAM) was founded to inspire a greater purpose in the workplace that changes the way we view work and encourages a heart of service to the world around us. They inspire this movement by providing opportunities that add significance to the work we do each day.