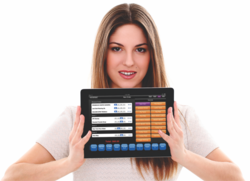 Las Vegas, Nevada (PRWEB) June 26, 2013
Next Gen Dine by Prelag Partners LLC is now fully installed and functioning at República Empanada quick-serve restaurant in Mesa, Arizona. NGD was the best choice for República Empanada when it came to choosing a point of sale system. Next Gen Dine will maximize staff rapidity and efficiency.
The stationary terminals will stimulate the senses of the tech savvy customers. Orders placed, will immediately be processed to the corresponding prep station, thus reducing order turnaround time and providing superior customer service.
The state of the art technology provided by Next Gen Dine will offer peace of mind to the customers with fast, safe and secure forms of payment directly at the counter.
Next Gen Dine software is the first of its kind in the tablet restaurant point of sale market and the future of restaurant dining. For more information, please contact Paul Roberts by phone at 1-877-342-2218 or email at paul(at)nextgendine(dot)com.
República Empanada is located in the Southside Heights Neighborhood of downtown Mesa on the NE corner of 1st Avenue & Hibbert. The mid-century architecture is a unique contrast to the brick row showcased along Main Street. We are a pan-Latin bistro that specializes in Arizona's largest variety of South American style savory empanadas. Our empanadas, as well as our dishes, represent the different regions and tastes of Latin American comfort food.
Next Gen Dine is a cloud-based, mobile restaurant point of sale software designed for the iPad. Restaurant owners can now capitalize on the benefits of a full-featured POS system for a fraction of the cost of a traditional POS. Due to the mobility offered by the software, employees can take orders directly at the table, take credit card payments at the customer's side, and drastically improve restaurant operating efficiency. Orders placed are sent directly to the appropriate prep station, therefore decreasing order turnaround time. Next Gen Dine also offers restaurant owners customer loyalty, gift card, social media, and fine-grained marketing tools.