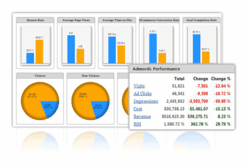 With Adigence, we have been at the forefront of SEM, helping our clients improve AdWords return on investment by as much as 24 to 34 percent.
Ottawa, Canada (PRWEB) June 26, 2013
Now available to digital marketing agencies and corporate marketers, Apption Corporation (http://www.apption.com/) today announced the release of its next generation search engine marketing (SEM) software as a service (SaaS) app, Adigence 2.0 (http://www.apption.com/adigence). The cloud application provides action-based recommendations and analytics reporting to help agencies and corporate marketers manage, track and optimize their Google AdWords campaigns and achieve a maximum return on investment.
The technology powering Adigence 2.0 is a new intelligence engine that uses machine learning algorithms and predictive analytics to generate multiple, simultaneous recommendations that improve an AdWords campaign. The intelligence engine solves a common problem encountered by AdWords campaign managers: not just one, but several factors are hampering their campaign's results. To improve a campaign, an AdWords manager must execute numerous optimization recommendations in various combinations for Adgroup, category and location, keyword, country and more. Adigence 2.0 is the only system that can generate multiple action-based recommendations for digital marketers to implement and immediately see improved AdWords campaign performance.
In addition to multiple, simultaneous recommendations, Adigence 2.0 features advanced analytics reports and functions that include:
Key Success Drivers
– More detail-rich reporting for Google AdWords campaigns to identify key factors driving a campaign's success.
Keyword Bid Recommendations
– Instead of the standard report on percentage allocation or setting a limit, Adigence recommends the optimal bid for a marketer to increase profit and overall ROI.
Keyword CPV and CPC Estimations
– Estimated costs per visit (CPV) and per click (CPC) to identify specific keywords that will generate the best results for AdWords campaigns.
O/S Support Indicators
– Operating system analytics to help digital marketers decide which operating systems to invest in and support for their prospects and customers.
Landing Page Diagnostics
– Deeper and more advanced landing page diagnostics reporting that assist marketers in identifying landing pages that need improvement.
AdWords Editor Exporter
– A new one-click exporter function that allows campaign managers to select the action-based recommendations generated by Adigence and export them into AdWords Editor format for easy, automated integration into an AdWords account.
The Search Agents, an independent search marketing firm, in their "Q1 2013 State of Paid Search" (http://www.thesearchagents.com/2013/04/thats-a-wrap-q1-2013-state-of-paid-search-report/) reported that in the first quarter of this year paid search advertising is continuing to experience healthy growth. Overall, they report that impressions increased 4 percent, click-through rate increased 15 percent, and clicks increased 11.7 percent. As well, year over year there was an 8.8 percent increase in CPC and a 21.6 percent increase in spend. With paid search advertising continuing to grow exponentially, the pressure to efficiently manage campaigns, report to management and maximize marketing dollars is intense.
"With Adigence 2.0, Apption has created the only search engine marketing cloud app to combine automated visitor behavior insights with action-based recommendations to help marketers dramatically improve AdWords conversions and completions," said Brian Joe, CEO of Apption Corporation. "With Adigence, we have been at the forefront of SEM, helping our clients improve AdWords return on investment by as much as 24 to 34 percent. Building off of the success of our first release of Adigence, we're confident that agencies and corporate marketers will see even better AdWords campaign results with Adigence 2.0."
To learn more about the Adigence 2.0 app for agencies and corporate marketers, visit http://www.apption.com/adigence.
—30—
About Apption
Apption is an award-winning software company helping organizations work smarter by embedding data analytics into operational applications and marketing departments. With a proven history of delivering innovative analytics-based solutions to corporations and governments across North America, Apption's Rapid Application Service Platform, Adigence solution and Customer Intelligence service are game changers for optimizing service delivery, marketing campaigns and digital advertising. For more information, visit http://www.apption.com.
Media Contact
Linda Wu-Dunphy
Director of Marketing
Apption Corporation
613-725-6268 x618
linda(at)apption(dot)com
http://www.apption.com