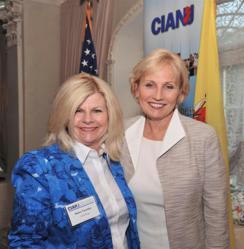 "I'm humbled, honored, and above all, inspired to do even more!" Debra Taeschler, GráficaGroup founder, President and CEO
Morristown, NJ (PRWEB) June 26, 2013
Debra Taeschler, the founder, President and CEO of GráficaGroup, a New Jersey-based, multichannel marketing and advertising agency that uses new thinking and technology to help businesses forge and retain lasting and profitable customer relationships, has been named a Woman of Influence by the Commerce and Industry Association of New Jersey.
New Jersey Lieutenant Governor Kim Guadagno spoke at the event and presented Taeschler with a letter signed by Governor Christie recognizing her for her achievements in business.
"You were part of a program that showcases worthy examples for others to emulate and the event's attendees have been fortunate to learn from your professional experience. That you were selected to participate in this program is a testament to your level of accomplishment and expertise," wrote the Governor.
Said Taeschler about the award, "I'm humbled, honored, and above all, inspired to do even more!"
About GráficaGroup
Celebrating 27 years in business, GráficaGroup is an award-winning, results-driven, multichannel agency that enables businesses to establish and nurture strong, meaningful relationships with customers across all categories. They include Fortune 500 and mid-sized B2B and B2C companies such as AT&T, Avaya, Century 21 Real Estate LLC, Horizon Blue Cross Blue Shield of New Jersey, Jackson Hewitt Tax Service, KPMG LLP, Morgan Stanley, PSE&G, Summit Medical Group, Trane, Weichert Realtors and Wells Fargo Home Mortgage - as well as public sector and not-for-profit organizations. For more information, visit grafica.com.