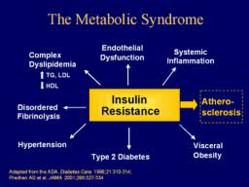 ThioGel and ThioGel-L are mainstays in many integrative and holistic medicine practices, due to the enhanced bioavailability formulation and the use of highest grade European-sourced alpha lipoic acid raw material
Wyckoff, NJ (PRWEB) June 26, 2013
The long-term maintenance of blood glucose levels within a normal range is a key function in maintaining overall well-being. A criterion for normal glucose homeostasis in humans is maintaining glucose levels below 100 mg/dl following an overnight fast. Individuals with fasting levels between 100 mg/dl and 126 mg/dl are considered to be "pre-diabetic", and individuals with levels above 126 mg/dl are considered to be diabetic.
The vast majority (90-95%) of diabetics are classified as having Type 2 diabetes, a condition characterized by reduced insulin action (insulin resistance) and an inadequate hyper-production of insulin, attempting to overcome the insulin resistance. Insulin resistance is a common metabolic impairment affecting individuals with either pre-diabetes (> 57 million people in the United States) or overt Type 2 diabetes, estimated to affect some 24 million Americans and increasing.
A great deal of recent research has implicated "oxidative stress" in the development of insulin resistance. Mechanisms for oxidant-associated deterioration of insulin action have been proposed that implicate excessive mitochondrial activity due to an energy surplus (e.g., resulting from a high fat diet). Recent research findings suggest that high sugar diets also promote insulin resistance, which is a common feature of diabetes and Alzheimers disease.
Pioneering work by Dr. Tory Hagen (Linus Pauling Institute) has demonstrated significant improvements in metabolic function and oxidative stress in older animals fed alpha lipoic acid (ALA) and acetyl-L-carnitine (ALCAR). The combination of ALA and ALCAR increased metabolism and decreased oxidative stress more than either compound alone. More recent studies in animal models have confirmed the benefits of dietary alpha lipoic acid intervention on oxidative stress and insulin resistance, and have highlighted the importance of improved oral bioavailability that is targeted to mitochondria in skeletal muscle.
Ethical Alternative Products has been marketing a highly bioavailabe formulation of alpha lipoic acid in its ThioGel and ThioGel-L brands for more than 10 years. According to Gerald Bruno, Ph.D., "ThioGel and ThioGel-L are mainstays in many integrative and holistic medicine practices, due to the enhanced bioavailability formulation and the use of highest grade European-sourced alpha lipoic acid raw material".
Ethical Alternative Products has started a special "Dynamic Duo" promotion. A free bottle of acetyl-L-carnitine is supplied with the purchase of a bottle of either ThioGel or ThioGel-L. The Dynamic Duo can be ordered online at http://www.gotoeap.com or by calling 1-800-861-0492.
About Ethical Alternative Products
Ethical Alternative Products is a dietary supplement supplier that is focused on the research and manufacturing of a select group of scientifically sound, broad-use supplement products. The company mission is to develop and produce high-value supplements, employing innovative formulations and highest quality raw materials. Products produced by Ethical Alternative Products include ThioGel, ThioGel-L triple antioxidant liver formulation, OmniFlex multi-nutrient joint health product and Tendonex topical pain reliever.