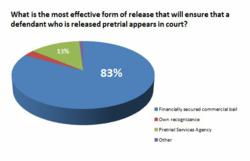 When you see such an overwhelming vote of support from a true national sample of sheriffs, it becomes really hard to dispute our industry's importance and effectiveness.
Calabasas, California (PRWEB) June 26, 2013
This past week the ExpertBail Team was in Charlotte, North Carolina, attending the National Sheriffs' Association (NSA) Annual Conference. As a Platinum Corporate Partner of the NSA, the ExpertBail Team has been actively discussing the bail industry with sheriffs from all over the country for the past three years. At every conference, ExpertBail has conducted a broad based survey of sheriffs to gain a better understanding of their perceptions, knowledge and support of the commercial bail industry. For the third year in a row, the results of the survey are extremely favorable towards the bail industry.
"The commercial bail industry is and always will be a partner and supporter of law enforcement and groups like the NSA," says Eric Granof, Managing Director of the ExpertBail Network and VP Corporate Communications for the AIA Family of Companies. "Most people don't understand the positive relationship that exists between the bail industry and sheriffs. In fact, most incorrectly assume that the two groups are not in alignment. However, the reality is that the bail industry has a very good working relationship with every form of law enforcement from the US Marshall Service to state and local police to sheriffs."
The annual survey was conducted amongst a large number of attendees at the conference. Each question was designed to gauge how each sheriff perceives the bail bond industry and its value to the system. Below are some of the key findings from the survey.

When asked how important the role of commercial bail is in the criminal justice system, 100%
of the respondents stated that bail was important (0% chose "Not Important"). Of those that
said "Important" 76% said that bail was "Very Important."

When asked what the most effective way to ensure that a defendant who is released pretrial
shows up for court, 83% of sheriffs responded with "Releasing them on a financially secured
commercial bail bond." Only 13% chose "Releasing them through a pretrial services agency"
and only 3% chose "Own recognizance release."
When asked what words best describe a bail bond agent, the following three attributes which
were selected from a list of both positive and negative attributes came out on top:
Professional (53%), Effective (46%), Helpful (25%)
These survey results are extremely positive for the bail bond industry overall, said Granof. "When you see such an overwhelming vote of support from a true national sample of Sheriffs, it becomes really hard to dispute our industry's importance and effectiveness."
About ExpertBail
ExpertBail is the bail bond industry's first true national bail bond network. Comprised of the most experienced and highest quality bail agents in the industry, ExpertBail helps consumers reduce the clutter in the bail marketplace and directs them towards a trusted, proven and experienced bail agent in a simple and transparent way. ExpertBail is backed by AIA, the oldest and largest family of bail bond insurance companies. With over 150 years of stability, trust and knowledge behind every bond written in the ExpertBail Network, its focus is on the consumer and helping them through a difficult time. The mission of ExpertBail and its network of agents is not only to meet the expectations of customers, but to exceed them substantially.
About AIA
The AIA Family of Companies has been partnering with agents across the country for over a century. Formed in 2003 as an alliance of the surety bail industry's leading companies Allegheny Casualty, International Fidelity and Associated Bond, AIA utilizes a unique "service-focused" approach to management that provides its family of agents with the knowledge, tools and commitment they need to grow their business and succeed. AIA has become the overwhelming industry leader in agent service, national coverage, bail written and number of agents.