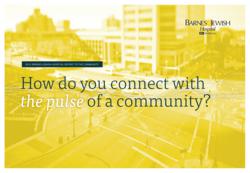 "This report shares ... the effect of donations from those who give to the Foundation impacts our region."
ST. LOUIS (PRWEB) June 26, 2013
Barnes-Jewish Hospital published its first-ever, digital annual report today at annualreports.barnesjewish.org. The 2012 Report to the Community for Barnes-Jewish Hospital focuses on how the organization keeps in touch with the pulse of the St. Louis community through backing from The Foundation for Barnes-Jewish Hospital. The exclusively digital report is easy to access and share on Internet-ready devices, anywhere.
"Our mission is to take exceptional care of people," says Rich Liekweg, president of Barnes-Jewish Hospital and group president of BJC HealthCare. "This report shares a few examples of how we excel in patient care, both inside and outside the medical center campus, and how the effect of donations from those who give to the Foundation impacts our region."
The report features stories, photos and videos, which provide snapshots of how the hospital has supported its patients, their families and the community—whether through a donated cab ride home or the latest medical breakthrough. Each element of the new report can be shared via social media platforms.
Barnes-Jewish Hospital's 2012 Report to the Community is available in an iPad- and smartphone-compatible format at annualreports.barnesjewish.org. For more information about Barnes-Jewish Hospital, visit barnesjewish.org.
Barnes-Jewish Hospital is a 1,315 bed teaching hospital affiliated with Washington University School of Medicine in St. Louis, Mo. The hospital has a 1,763 member medical staff, with many recognized as Best Doctors in America. Barnes-Jewish is a member of BJC HealthCare, which provides a full range of health care services through its 13 hospitals and more than 100 health care sites in Missouri and Illinois. U.S. News & World Report consistently recognizes Barnes-Jewish and Washington University in its elite Honor Roll of Best Hospitals, with a current ranking of sixth in the nation.