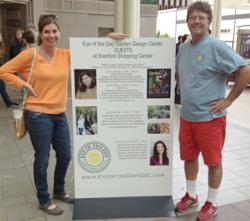 Rebecca Sweet is the author of GARDEN UP! SMART VERTICAL GARDENING FOR SMALL AND LARGE SPACES
Santa Barbara, CA (PRWEB) June 26, 2013
Eye of the Day's initial pop-up store located in the main pavilion at Stanford Shopping Center in Palo Alto, California is in elite company at this high end shopping destination, sharing space with Tiffany's and the Apple Store, close to Neiman Marcus, Louis Vuitton. Ralph Lauren and Williams Sonoma. Being included in this prominent group of retailers further underscores the value and quality of the authentic European and American-made products found at Eye of the Day.
Eye of the Day's owner, Brent Freitas, says "Our Gladding McBean products, made in Lincoln, California since 1875 are the Rolex of garden pottery." In addition to this fine product, included in the display are the unsurpassed Italian terra cotta from Terrecotte San Rocco, frost-proof to -15°. The quality of craftsmanship and design is rare to find in this era of mass production. Also rare is a collection this comprehensive, showcasing authentic Italian, Greek and French products.
In addition to this opportunity to see and explore these high quality products, Eye of the Day will offer free presentations by well known authors and designers. Among the topics will be edible gardening in containers, beekeeping, summer plants and flowers, and techniques for restoring and reviving old garden pottery and fountains. See our blog and events calendar for information about our guest speakers at Stanford Shopping Center.