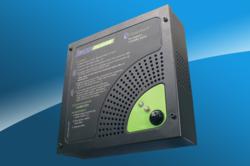 "Our goal is to help our client maximize the potential of each patient visit," stated Doug Braun, inLighten SVP of Sales.
Clarence, NY (PRWEB) June 26, 2013
inLighten, a recognized leader in digital media and self-service solutions announced today that it has been awarded a project by Great Expressions Dental Centers to provide a hosted digital signage network across the organization's 189 existing specialty dental clinics, as well as upcoming new locations opened by the regional dental service provider. The Bloomfield Hills, MI Company operates dental centers in nine states ranging from Michigan to Florida and, through a national RFP process, selected inLighten to outfit its facilities with screens located in both waiting areas and operatories. The initial phase of the project will include more than 1,400 screens powered by inLighten's iBOX® Digital Media Players at each of the offices and connected to inLighten's hosted online content management solution. Turnkey installation for the project will be provided by inLighten's audio-visual services division, inCommunication. Project Manager, Gary Hiramoto said that installations have been planned to occur over a twelve month period and will be implemented to avoid interrupting normal business operations.
Each dental center will present inLighten's specialized iTV™ news programming to engage patients while they wait for service and when they're in the operatories. iTV features a complete spectrum of news from leading, accredited sources. This includes, among others, world and national news, business updates, sports news and scores, local weather and features from the arts, health and science. Great Expressions video messages about products and services, plans and other brand and corporate announcements will be the only promotional content mixed with the news programming. According to inLighten, this content combination produces an enhanced awareness of dental care information while at the same time making patients feel more comfortable and relaxed during their visit.
Industry sources indicate that idle time accounts for about 20 minutes of the typical dental office visit and can contribute to patient anxiety and under-utilization of services. The mix of Great Expressions messaging and iTV news content is intended to address both issues. "The combination of our high-quality news programming and attractive, informative messaging created by us for Great Expressions will be both an added value for the patient and a means of making each patient relationship more valuable to our client," says inLighten Senior Vice President of Sales, Doug Braun. "Our goal is to help our client maximize the potential of each patient visit," he added.
inLighten CEO, Dan Snyder credits inLighten's ability to deliver a seamless, end-to-end solution as a critical determinant in Great Expressions' decision. "As important as our experience in executing larger digital signage deployments was the fact that inLighten offers all the core capabilities essential to the success of an initiative like this – from software development, systems maintenance and network monitoring, to content hosting, installation and field support. Our commitment to our customers is that we assume full responsibility for every aspect of implementing and operating a dynamic digital signage network and provide a single point of accountability for all ongoing service and support."
According to Snyder, the first dental centers are scheduled to be installed starting by year-end 2013 and continuing throughout the next year.
inLighten is a pioneer in networked digital media solutions including digital signage, self-service kiosks, on-hold and environment audio services and speech privacy solutions that empower clients to effectively and securely communicate with their audiences. Powered by inLighten digital media management software that enables customized content creation, scheduling and distribution controls, inLighten solutions are scalable, cost-effective and exceptionally reliable. Industry-leading consulting, installation, technical support and creative services deliver a superior customer experience and provide a single point of accountability for all aspects of implementation, day-to-day management and continuing network operation. inLighten's headquarters are in Clarence, NY.