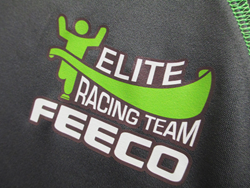 "Health & Wellness is really important to us. We wanted to make sure we give everyone all the tools we can to set them up for success," said Dan Madigan, FEECO President and health enthusiast.
Green Bay, WI (PRWEB) June 26, 2013
As the topic of health & wellness becomes ever present in today's fast-paced society, many companies are taking strides to make sure their employees are healthy and happy. One such company, is FEECO International.
FEECO International, an engineering and equipment manufacturer, has around 100 employees, from office workers, to shop employees. In an effort to give employees more opportunities for wellness success, FEECO offers its employees a variety of ways to participate.
FEECO developed an in-house program called "Get in Shape With Us" that helps employees track their activities, compete against each other, and form teams for competitions. To tie in to this program, FEECO gave their employees and family members step trackers to help track their progress and meet goals. As employees record their activities, they earn tokens toward a variety of prizes.
In addition to its own wellness programs, FEECO has also partnered with the YMCA and Prevea Health to bring employees a one-on-one wellness coach, nutrition and wellness classes, training programs, activity classes, and even a physical fitness boot camp.