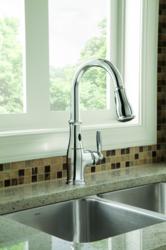 North Olmsted, Ohio (PRWEB) June 26, 2013
Consumers never can have too many style choices, especially when selecting a new kitchen faucet – the focal point of the room. To help with the decision, Moen is expanding its popular and easy-to-use MotionSense™ technology to include the Brantford™ pulldown faucet, offering consumers the ultimate convenience in the kitchen with performance on demand and a new traditional styling option to meet a variety of décor preferences.
Brantford's timeless appeal gives any kitchen a beautiful look. In addition to its stylish attributes, the faucet now features MotionSense, which utilizes advanced sensors to detect movement in two sensing zones, setting water flow in motion without a single touch. With MotionSense, tasks like washing dishes, filling a glass of water and preparing the evening meal are simplified. It's like having a second set of hands in the kitchen – perfect for when your hands are too full or too dirty to turn on the faucet.
Learning how to use MotionSense is as simple as it is innovative. Faucets with MotionSense can be controlled in three unique ways:

The Wave Sensor at the top of the faucet starts and stops the water flow with a simple hand movement above the faucet.
The Ready Sensor near the base of the faucet identifies when an object – like a cup or your hand – is placed beneath the spout. It runs water for as long as that item remains in range and automatically shuts the flow off as soon as the object is removed from the sensing zone.
The handle on the side of the faucet offers manual operation, letting users adjust flow and temperature.
The versatile sensor control offered by MotionSense makes it surprisingly easy to accomplish a variety of routine tasks with speed and efficiency. Plus, the hands-free technology virtually eliminates the need to touch the faucet, helping to reduce the spread of germs.
Another benefit of MotionSense is the opportunity to save water in the kitchen. The Ready Sensor will automatically supply water only when an object or hands are within the sensing zone – reducing the possibility of leaving the faucet running when not in use.
MotionSense is powered by a battery pack that utilizes six standard AA batteries or an optional AC power adapter. An LED light provides visual feedback, indicating when the faucet turns on or off; or if the faucet should run low on batteries – typically, after approximately 12 months of use. Kitchen faucets with MotionSense are surprisingly straightforward to install, having very few components and no complex sub-assemblies, saving time during the installation process. The battery pack is housed conveniently under the sink, for easy access and quick replacement. A special valve design fully supports manual and digital modes, meaning the hands-free feature works any time – even when the handle is in the "off" position. It also means that the faucet will always function in manual mode – even if it loses power.
The Brantford faucet with MotionSense also features Moen's Reflex® system, which offers self-retraction of the wand, as well as an exceptional range of motion, generous reach and secure docking. Additionally, it utilizes the Moen 1255® Duralast® cartridge for a consistently smooth handle feel. For added flexibility, Brantford can be mounted multiple ways – as a single-hole mount to fit beautifully into solid-surface and natural-material countertops, and as a three-hole installation with a matching deckplate.
Brantford is available in Chrome, Oil Rubbed Bronze and new Spot Resist™ Stainless finish, which resists fingerprints and water spots, maintaining the brilliance of the faucet. Each Brantford pulldown kitchen faucet with MotionSense is backed by a five-year warranty for all electronics, plus a limited lifetime warranty* for all finishes and mechanical components.
For more information about the Brantford pulldown kitchen faucet with MotionSense, visit moen.com/motionsense or call 1-800-BUY MOEN (1-800-289-6636).
###
*For complete warranty information, visit moen.com
About Moen
As the #1 faucet brand in North America, Moen offers a diverse selection of thoughtfully designed kitchen and bath faucets, showerheads, accessories, bath safety products and kitchen sinks for residential applications – each delivering the best possible combination of meaningful innovation, useful features, on-trend styling and lasting value. In addition, Moen® Commercial offers superior performing products that deliver lower lifetime costs for today's facilities.
Moen has worked diligently to support, promote and advance sustainability within the organization and the plumbing industry. The company has been recognized with the 2011 EPA WaterSense® Excellence Award, as well as the 2010 EPA WaterSense Manufacturer Partner of the Year Award, for its work to protect the future of our nation's water supply through the introduction and ongoing support of water-efficient products, programs and practices, while keeping consumers' needs top-of-mind.
Moen is part of Fortune Brands Home & Security, Inc. (NYSE: FBHS), which creates products and services that help fulfill the dreams of homeowners and help people feel more secure. The company is a leader in the home and security industries and features well-known and trusted brands like Moen® faucets, Master Lock® padlocks and security products, MasterBrand Cabinets®, Therma-Tru® entryway systems and Simonton Windows®. For more information, please visit http://www.fbhs.com.
WaterSense is a registered trademark of U.S. Environmental Protection Agency (EPA).
Contact:
Jennifer Allanson or Kristi Stolarski
Falls Communications
(216) 696-0229
jallanson(at)fallscommunications(dot)com
kstolarski(at)fallscommunications(dot)com