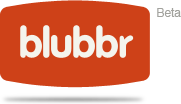 (PRWEB) June 27, 2013
Blubbr (Blubbr.tv) officially launched in the beginning of 2013 and is revolutionizing the way we experience trivia games. Users from various backgrounds and ages are attracted to the customization element of Blubbr's 'trivs' (video quizzes) and in just 6 months, over 13,000 unique trivs have been added to the website by users around the world. With over 40,000 trivia questions stored, Blubbr is quickly becoming an online destination for creating personalized video trivia games - and sharing knowledge in a new creative way.
What is Blubbr?
Blubbr is a new and innovative crowdsource video trivia platform. For a startup with a background in web development, user experience, and cloud-based computing, it's no wonder that the fun design of Blubbr immediately invites and engages users to jump in and play. Users can easily sign up via Facebook, Twitter, or email and have immediate access to creating their own trivs using YouTube video clips and plugging in their own questions and answers. If signed in via Facebook, Blubbr provides an added benefit of personalization by serving up "recommended trivs" based on a user's Facebook activity and social behavior.
Bringing Back the Fun in Education
Triv categories range from TV, Celebrities, and Gaming to Education, Politics, and Science – so Blubbr is attracting a wide range of triv creators and players. Yet beyond the usual entertaining quiz games about music or favorite TV shows, users are beginning to use Blubbr in very unique and personalized ways – and this is what differentiates it from other trivia games in the past.
Engaged couples, for example, are crafting their own custom trivs and challenging their partners or friends on how well they know each other. Band members are embedding their personal trivs onto their own websites and social network pages in order to interact with their fans in new and creative ways.
Yet, the biggest impact so far has been seen in the field of education. The fun, simple, and interactive design is making Blubbr an attractive learning tool for educators and students. Some teachers are creating their own trivs to function as quizzes and measure the performance of their students' progress. Others have their students create their own trivs, either as pre-testing reviews or even as an alternative to book reports.
"Being an open platform and easy to use, students and teachers can develop trivs on any topic to create interactive assignments, projects etc. For kindergarten teachers, Blubbr is an excellent tool by which they can create as many video quizzes they like, to make learning more interesting and effective for the kids." – From Ed Tech Review
Becoming the Wikipedia of Video Trivia
With new trivs being created all the time, the startup's database of customized video segments and quiz questions is continuously climbing, further diversifying and enriching the categorization of information. As new information gets stored, Blubbr is becoming the new knowledge warehouse.
"We want to become the Wikipedia of video trivia games," say the founders of Blubbr. Looking towards the future, Blubbr sees a world where video trivia is seamlessly integrated into the social fabric of our lives. With the ability to play on a larger scale and with more and more trivs available to test our knowledge, Blubbr aims to become a central player in the domain of video trivia gaming.
To learn more about Blubbr's platform, visit http://www.blubbr.tv and start experiencing the excitement of personalized video trivia games firsthand. To follow future developments, be sure to follow Blubbr on twitter @BlubbrTV and like them on the Blubbr Facebook page.