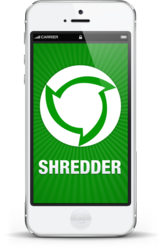 Dublin, Ireland (PRWEB) June 27, 2013
"Unfortunately, people are not all that safe when they are using their phones to send and receive messages and photographs," explains Greg Birdthistle, COO of Shredder. "Shredder changes all that. It gives people the privacy and security that they want and need. No questions asked; it will simply remove all traces of the messages you send and receive"
Shredder's launch is in perfect timing with the controversy that is taking place with the National Security Agency (NSA). Recently, the NSA has come under fire for their possible involvement in reading the public's photographs and text messages (among other information) without their knowing. The controversy continues, with it being argued on both sides. On one side, they are indicating that it is being done to help reduce incidents of terrorism, while on the other it is seen as a violation of the constitution and of one's privacy.
"This is the app for those who like keeping their privacy and don't feel that anyone and everyone should have access to read their messages," added Birdthistle. "Unless someone has a really good reason to read your messages without your consent they shouldn't be doing it. That's why Shredder is so great. It puts an end to the invasion of privacy."
Shredder is a new free app that is available for download in the iTunes store. For more information or to download the app, visit the site at http://www.shredderapp.com
About Shredder App
Shredder is an application that was designed to help people maintain privacy with the photographs and text messages they send on their smart phones. The application works to instantly shred all of them sent and received, leaving no trail in its place. For more information on the Shredder, visit the site at: http://www.shredderapp.com.