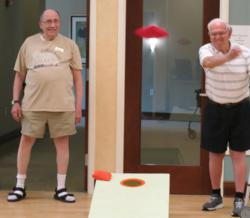 "We celebrated our wonderful Friendship Village men and promoted wellness and better quality of life for the mind, body, and soul of our residents." - Jessica Enriquez, Friendship Village's SeniorFit Program exercise physiologist
Chicago, IL (PRWEB) June 28, 2013
Friendship Village celebrated National Men's Health Week June 10th through 14th. Observed annually during the week leading up to Father's Day, National Men's Health Week was initiated to increase awareness about men's health issues. "Health and wellness are extremely important to us at Friendship Village. We strive to deliver quality programs geared towards health and wellness each day. Our program observing Men's Health Week helped engage the men living at Friendship Village in a variety of fun and interactive programming geared towards men," said Jeff Rose, lifestyles producer and volunteer coordinator for Friendship Village.
Approximately 50 male residents of Friendship Village participated in activities which included a football toss, shuffle board tournament and a health and sports trivia contest. On Thursday, June 15th, players from The Schaumburg Boomers baseball team who are staying at Friendship Village for the season, participated in a water volleyball game with the residents. Friendship Village's wellness nurse Stephanie Tewell shared sleep advice, and Chaplain Shawn Kafader gave a presentation called Men's Soul Time.
"We celebrated our wonderful Friendship Village men and promoted wellness and better quality of life for the mind, body, and soul of our residents," said Jessica Enriquez, SeniorFit Program exercise physiologist at Friendship Village.
Friendship Village is a leading Chicago continuing care retirement community offering a complete continuum of care including independent living garden homes and apartment homes, as well as assisted living, memory support, skilled care, and short- and long-term rehabilitation services. For more than 35 years, Friendship Village has been providing Chicago area seniors with exceptional retirement living options.