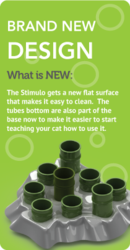 Cats need more challenge than a simple bowl of food.
Terrebonne, Canada (PRWEB) June 26, 2013
When it comes to improving a product, it's always interesting to see what a company can come up with. It took much work but this new design makes it easier to use than ever and enhance cats diner experience.
This project initiated in 2012 when AiKiou decided that it should come up with something different but that would reflect the original design that people already recognize. So the new design is based on the original one but the way it assembles was changed to make the Stimulo more efficient. Not only can it be used like a cat slow feeder like the original one but also to improve cats life by giving them a healthy activity to do.
This product is now recommended by many behaviourists but also companies like Purina One in their new TV commercials. The idea behind all that is to replicate the way a cat would normally eat in nature where they would need to get a mouse out of it's hole. They simply have to scoop out the food, which gives them an intellectual activity to do. It is a common fact that most of our cats today don't have anything to do other than sleep all day and this is a welcome activity to do during meal time.
To make it more efficient, the surface was changed to make it smooth in order to prevent food being stuck on the surface and the bottom of the different tubes were integrated in the base itself. The number of tubes was increased to make it more challenging and the design gives the AiKiou the ability to add more difficult ones in the future.
Part of this new design also reflects the desire of AiKiou to produce more eco-friendly products by reducing the quantity of plastic and packaging used in their products. Not only does it reduce the pollution physically but also reduce the transport impact on the planet.
Like all of AiKiou products, they can also be used in shelters as recommended by the ASPCA to enrich pets lives. It will also be available in 2013 in more than 700 Petco locations for cats to enjoy.
About AiKiou:
AiKiou is a French Canadian company that creates products to enrich pets lives and their relation with their owners by making products that will help bring back a natural aspect in their lives. We also offer our products to shelters in a program where they can participate in the company and improve their pets environment.