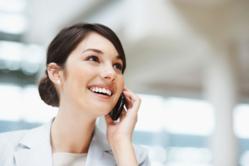 International calling companies like PureMinutes not only eliminated the cards but also offers rates that are simple and honest.
(PRWEB) June 26, 2013
A prepaid calling card used to be the cheapest and most convenient option to make international phone calls; however, it often required wading through complicated menus and PIN numbers. When overseas, it also added the hassle of needing to find a card which had the option of English menus. Today staying in touch with friends and family has never been easier with PureMinutes.
PureMinutes (LINK) provides a low-cost international calling solution that works with any phone number, regardless of the current provider even when renting a temporary phone while overseas. This means that a user can enjoy the benefits of low international rates without needing to change their current landline or mobile cell phone service provider.
The revolutionary Pure Minutes system instantly recognizes subscribers through an automatic caller identification which eliminates the need for complicated PIN numbers typically found on calling cards. In fact, Pure Minutes has eliminated the need for calling cards altogether. In order to help find the international calling solution that will fit each users specifics needs, we need to consider several important factors:
1) Find a calling card that offers cheap rates to the destination.
A recent Consumer Report (LINK) revealed that many calling card companies did not accurately reveal their rates or had rates so high that the entire cost of the card was consumed before the call actually began.
International calling companies like PureMinutes not only eliminated the cards but also offers rates that are simple and honest. After clicking on the Pure Minutes Rate Calculator, (LINK) simply type the country or region to get a detailed breakdown of the charges one is expected to encounter when making phone calls.
2) Be aware of hidden fees.
Many calling cards charge maintenance and connection fees on top of their rates. In the same consumer report, users found themselves crippled by exorbitant hidden fees that sapped the calling card balance as the card lay dormant. Consumers aren't always made aware of these shady practices which act to fill the coffers of telecom execs.
Pure Minutes, on the other hand, are one of the few providers that do not charge any hidden fees, maintenance or surcharges to their rates. The company stays true to the mantra of offering only "pure minutes."
3) Search for cards that can be used at home and overseas.
A bulk of the calling card company plans are geared only for one-way calling. This means that the plans are limited to be used from the home country, in our case it would be the United States, to make calls outbound to any country around the world. However, when traveling, the convenience of being able to use an existing account to call home is immeasurable.
Pure Minutes is a leader in the industry in offering local access numbers in locations around the world for its consumers to use their accounts even when traveling. A scan of the Pure Minutes Access Numbers (LINK) reveal that in addition to using the account anywhere in the United States to make calls abroad, one can also call from popular destinations such as Australia, China, Brazil, Israel, Italy and Mexico and take advantage of their low international calling rates.
4) Research the different ways of adding credit to the account.
When traveling finding a store to top-up or recharge the Pure Minutes account on the fly can be a complicated procedure. Usually those on vacation want to spend more time on vacation and not struggling to find a store or kiosk. In some countries calling cards also provide the ability to add credit to the account through toll free numbers and use of credit cards, but these options may be considered antiquated and clumsy by today's standards.
Luckily Pure Minutes employs a combination of physical locations that will accept cash along with online access to the Pure Minutes account where a user can recharge their account with their credit card or PayPal. Because every user's Pure Minutes account can be accessed directly through the internet on their portal, topping up the minutes has never been easier.
5) Flexibility
Those who make frequent international calls, have friends or family living abroad, or are regular travelers who find it expensive or difficult to stay in touch have a new solution at their fingertips thanks to PureMinutes. Featuring the lowest international rates on the market, friends and family are only a phone call away.
Pure Minutes is a prepaid international long-distance calling solution. We provide low-cost international calling without the need of changing a customer's current landline or mobile phone provider that may have expensive and limited international calling plans.
For a limited time, new users can get a $3 free trial with no obligation by texting the word PURE to 74121 using any Mobile Phone!
Sign up today at Pure Minutes for exclusive access to the service and begin making calls today.
Supported Carriers: AT&T, Sprint, Nextel, Boost, Verizon Wireless, U.S. Cellular®, T-Mobile®, MetroPCS, Tracphone, Cricket, Cellular One Dobson, Cincinnati Bell, Alltel, Virgin Mobile USA, Cellular South, Unicel, Viaero Wireless US, Centennial and Ntelos.
Message and Data Rates May Apply. For help or information on this program, send "HELP" to 74121. To cancel the plan, send "STOP" to 74121 at any time. For additional assistance, contact customer service at 1-866-558-4169. For Full Terms and Conditions, visit http://www.cdyne.com/shortcode/us/toc.aspx?shortcode=74121 Msg Freq 5 per day.
To learn more about PURE Minutes and our exclusive system which eliminates the need for complicated PIN numbers visit our website at pureminutes.com and get up to 60 free minutes for first time customers.
The PURE Minutes difference

No Hidden Fees
No Connection Fees
No Maintenance Fees
Real Minute Rounding
No Contract Required
Minutes Never Expire
Low International Rates
Reliable, Clear Quality
About PureMinutes
PURE Minutes LLC is a leading provider of prepaid international long-distance calling solutions. We provide an affordable communication solution that offers flexibility, portability and ease-of-use for both landline and mobile users. PURE Minutes offers competitive international calling worldwide with no hidden fees, no maintenance fees, no contract required, and minutes that never expire. PURE Minutes service is sold on the web and through regional and national retailers including MoneyGram, La Nacional and payXchange and is available to customers worldwide in English and in Spanish and accepts payments through all major credit cards and PayPal.
Follow us on Twitter (@PUREMinutes), Facebook (facebook.com/PUREMinutes), and LinkedIn (PUREMinutes, LLC) for up to the minute updates.