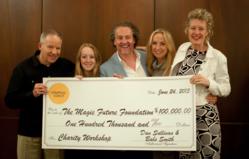 It was a magical day.
Chicago, IL (PRWEB) June 26, 2013
Strategic Coach® celebrated the success of its first North American charitable workshop by donating $100,000 to The Magic Future Foundation who are working with buildOn to build schools in the African countries of Mali and Malawi.
Held in Chicago on June 24 in conjunction with The Magic Future Foundation, this event offered entrepreneurs a rare opportunity to be coached by Strategic Coach founder, Dan Sullivan. Over the course of the day, Sullivan taught 115 successful business owners unique concepts and tools they can use to transform their businesses into "self-managing companies."
"I was excited to have this opportunity to make a contribution to such a great cause," said Sullivan, "but also to give something valuable to this group of entrepreneurs, because entrepreneurs are the driving force behind so much positive change in our society."
All profits from the event were donated to The Magic Future Foundation in support of buildOn, which has built 543 schools, transforming communities around the world while giving American kids at risk a new sense of meaning, purpose, and self-worth.
"It was a magical day," said Stefan Wissenbach, founder of The Magic Future Foundation. "Teaming up with Strategic Coach and buildOn had a remarkable cascading impact—successful entrepreneurs learning how to build better businesses and lives, gaining tools to empower their teams to build bigger futures, and at the same time helping to reverse the effects of poverty and illiteracy worldwide. What an exceptional outcome!"
...........................................
About Strategic Coach
For more than 20 years, Strategic Coach has offered successful entrepreneurs a unique process for extraordinary growth, higher income, and exceptional quality of life. Founded by Dan Sullivan and Babs Smith, Strategic Coach is an organization run by entrepreneurs, for entrepreneurs. The Strategic Coach® Program enables entrepreneurs to create greater success and freedom for themselves and more value and satisfaction for their clientele. Strategic Coach clients have come from over 60 industries.
About The Magic Future Foundation
The Magic Future Foundation is an offshoot of Magic Future®, which gives users access to powerful web-based thinking tools and an app to help them take control of their future. The organization's mission is to create generation after generation of happy, purposeful people who are fulfilling their potential. Committed to bringing the same education and inspiration to the millions of other people who don't have access to money or a computer, The Magic Future Foundation's aim is to give everyone the opportunity to build a better life.
About buildOn
For over 20 years, buildOn has worked to "break the cycle of poverty, illiteracy, and low expectations through service and education." The charity runs a range of after-school programs in the toughest urban areas, mobilizing young people and helping them lift up their communities. It's also built 543 schools in some of the poorest countries around the world.