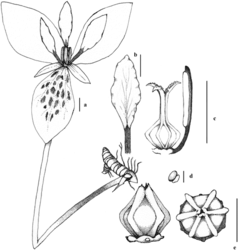 T. tennesseense was discovered by a form of "citizen science," as a newly acquired parcel of land prompted the owners to delve more deeply into an unidentified flower.
Lawrence, KS (PRWEB) June 27, 2013
Castanea – Trillium tennesseense is a newly discovered, rare species of Trillium, currently known to occur in only three locations on the slopes of Bays Mountain in Hamblen and Hawkins Counties, Tennessee. T. tennesseense was discovered by a form of "citizen science," as a newly acquired parcel of land prompted the owners to delve more deeply into an unidentified flower. The newly discovered species closely resembles T. oostingii and was confirmed as a new species through taxonomic sampling, molecular methods, and phylogenetic analysis.
An article in Castanea explains that with only 25 confirmed species of Trillium in eastern North America, and a possible six additional species in the west, this discovery is very rare. To verify the new species, a study was conducted that used nonfunctional RNA, referred to as an internal transcribed spacer (ITS), of the flower for testing. ITS has proven especially useful for this type of identification for two main reasons: It is easy to amplify small quantities of DNA; and a high degree of variation can be detected between closely related species.
The taxonomic, molecular, and phylogenetic analyses were conducted to confirm that this previously unidentified flower had enough distinction to be named its own species. It was found that, although very closely related to T. oostingii, the reproductive organs of the two flowers are different. The coloring of the petals is also similar , but the flowers have different smells. T. oostingii has a sweet odor, whereas T. tennesseense has a smell akin to old-fashioned shoe polish.
Genetic testing enabled the researchers to classify this new species into a subgenus and down to a specific group of Trillium. The remoteness and rarity of the location raises additional questions regarding the breeding patterns of Trillium that will be helpful in further defining the different subgenera and groups.
Trillium is already considered a rare flower subgenus and certain species have long-standing, specific histories in some countries with regard to medicinal usage, and overall reverence, having their own stamp, and one is even the official flower of Ontario. The discovery of a new species of Trillium, where only two additional species have been discovered in North America since 1975, is certainly an exciting find. T. tennesseense is also unique because of its remote location and, because it shares that location with other relatively rare plants, will provide an excellent opportunity to preserve and study an unusual habitat.
Full text of the article, "A New Sessile-Flowered Trillium Species from Tennessee," Castanea, Volume 78, Issue 2, June 2013, is available at http://www.castaneajournal.org/doi/full/10.2179/12-043.
About Castanea
Castanea is the journal of the Southern Appalachian Botanical Society and publishes articles relating to all aspects of botany in the entire eastern United States and adjoining areas. The Southern Appalachians—the nonglaciated mountainous areas of Alabama, Georgia, South Carolina, North Carolina, Tennessee, Kentucky, Virginia, West Virginia, Maryland, Pennsylvania, and southwestern New York—form an evolutionary center for native plant diversity for the northern temperate regions of the world. The society dates to 1935 and serves all persons interested in the botany of the Southern Appalachian Mountains. The journal encourages submissions of scientific papers dealing with basic research in any field of plant biology, systematics, floristics, ecology, physiology, and biochemistry. For more information about the journal or society, please visit: http://www.sabs.appstate.edu.